Quick Answer:
You can record YouTube audio to MP3 with SurFlex Screen Recorder, SurFast Video Downloader, or the Chrome Audio Capture extension.
If you want to capture audio from YouTube and save it as an MP3 file for offline listening or other purposes, you may encounter limitations with the built-in screen recorders on PC or Mac. Applications like Voice Recorder or Sound Recorder for Windows and QuickTime Player for macOS typically only record microphone audio by default. This means that if you need to record audio from your computer, such as recording YouTube audio to MP3, you will require a third-party YouTube to MP3 recorder.
Fortunately, there are numerous tools available that can help you accomplish this task. If you want to record from YouTube to MP3, read on to get the detailed steps.
Record YouTube Audio to MP3 Easily
Tool: SurFlex Screen Recorder
SurFlex Screen Recorder is an easy-to-use YouTube to MP3 recorder that allows you to effortlessly capture audio from YouTube on both Mac and PC. With this tool, you have the flexibility to save your recordings in various audio formats, including MP3, WAV, OGG, FLAC, and more.
Not only does this screen recorder enable you to record internal audio on Windows & macOS, but it also offers the capability to capture both microphone sound and computer audio simultaneously. This means you can record audio from YouTube while also including your own commentary or any other external audio source.
Overall, SurFlex Screen Recorder provides a simple and straightforward process for recording YouTube audio and saving it to MP3 or any other preferred format.
To record from YouTube to MP3:
Step 1. Launch SurFlex Screen Recorder and then choose the Record Audio mode.

Step 2. Click Settings, choose MP3 as the output format, and then click OK.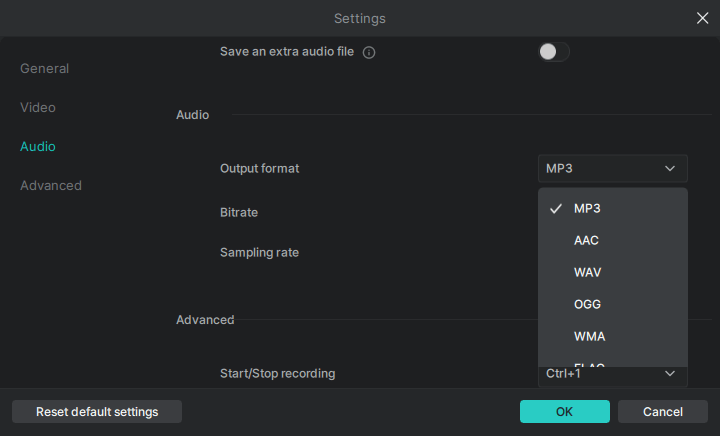 Step 3. To record audio from YouTube on your computer, choose System Sound among the options and then click REC.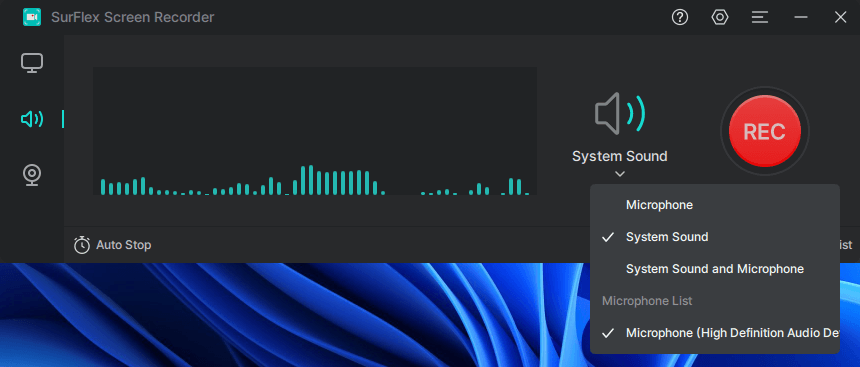 Step 4. After you capture your desired audio content, click Stop.

Step 5. Check the MP3 file in the recording list.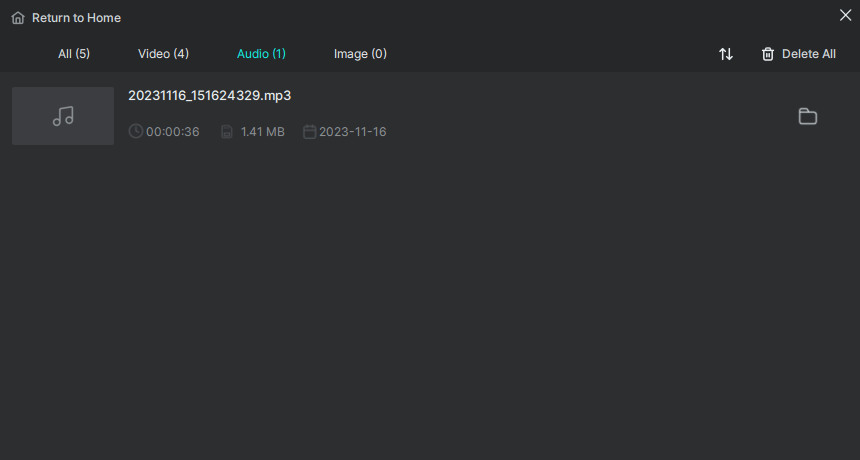 Capture MP3 from YouTube Directly
Tool: SurFast Video Downloader
Another highly effective method to capture MP3 from YouTube is by directly downloading YouTube to MP3 using a YouTube audio downloader like SurFast Video Downloader. This tool allows you to extract audio from YouTube videos and download music from YouTube and YouTube Music. You have the flexibility to choose between MP3 or WAV as the target format, satisfying your specific needs for saving YouTube to MP3.
Compared to recording sound from YouTube, downloading YouTube audio to MP3 proves to be more time-saving. With this app, you don't need to wait for the entire audio duration, and you can download multiple audio files simultaneously. If you wish to capture multiple songs or audio files from YouTube, using SurFast Video Downloader is undoubtedly the better choice.
To capture MP3 from YouTube:
Step 1. Copy the YouTube link you want to capture audio from and paste it to SurFast Video Downloader.
Step 2. Wait for the tool to load the download options automatically. Since you need to capture YouTube audio, switch to one of the Audio tabs, including MP3 and WAV, and choose the audio quality you need. Then click Download.
Step 3. After the downloading process, you can check the YouTube audio file on your computer easily.
Record from YouTube to MP3 Online for Free
Tool: Chrome Audio Capture
If you prefer to avoid software installations, there is a convenient online tool available for recording YouTube to MP3. You can utilize the audio recording extension called Chrome Audio Capture, which allows you to record YouTube audio in MP3 or WAV format directly from your browser, and it's completely free to use.
It's important to note that Chrome Audio Capture may not be suitable for recording audio longer than 20 minutes, as it may encounter difficulties in properly saving the audio file. However, if your intention is to record music from YouTube, Chrome Audio Capture can effectively fulfill your needs.
To record from YouTube to MP3 online:
Step 1. Add Chrome Audio Capture to your Chrome browser and pin it to the toolbar.
Step 2. Open another tab to visit YouTube and play the media you want to capture audio from.
Step 3. When you are ready to record, click the audio recorder from the toolbar and choose Start Capture.
Step 4. To end the recording, click Save Capture in the window.
Step 5. Click Save Capture again on the new page.
Step 6. Rename the recording, select the destination folder, and click Save.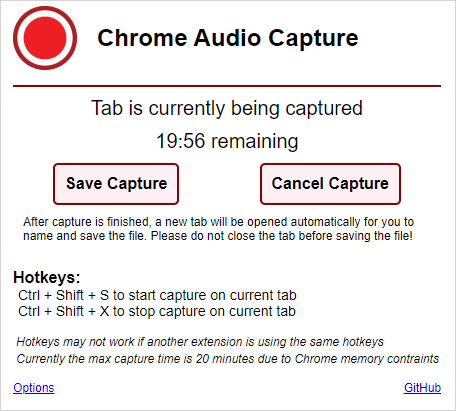 Wrapping Up
To be honest, extracting MP3 from YouTube is much easier through downloading rather than recording. If your requirement extends beyond recording audio from YouTube and you often find yourself needing to record both video and audio from various sources on your computer, using a comprehensive video and audio recorder like SurFlex Screen Recorder is a preferred choice.
However, if your primary goal is to capture audio specifically from YouTube and similar sites, utilizing a dedicated video and audio downloader will better suit your needs.