SurFast Video Downloader
SurFast Video Downloader: Safe Video Downloader for Everyone
Download videos to MP4, WebM, and more in 8K, 4K, 1080p, 720p
Download online music, songs, and audio files for offline listening
Convert YouTube to MP3 directly
Download live streams from YouTube, TikTok, Twitch and more
Download Any Video from Any Site
Supporting an ocean of websites, SurFast Video Downloader can download videos from various sites. Videos from the most popular websites, namely YouTube, TikTok, Facebook, and Twitter, are all downloadable.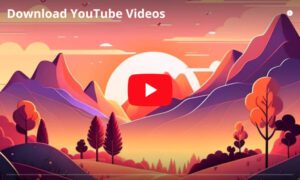 YouTube Video Downloader
SurFast Video Downloader serves the functions of both YouTube video downloader and YouTube to MP3 converter. That means you can download YouTube videos to PC or Mac and convert YouTube to MP3 or WAV in bulk with ease. Speaking of videos, both uploaded items and live streams are supported. It's worth mentioning that you can also download YouTube thumbnails with it.
TikTok Video Downloader
SurFast Video Downloader also has a special support for TikTok. Whether you'd like to download TikTok videos on PC or download TikTok live streams, this TikTok video downloader will get it done. Besides, it also enables you to convert TikTok to MP3 to capture audio from online videos effortlessly.
Facebook Video Downloader
Whenever you want to perform Facebook video download, SurFast Video Downloader will come to your assistance. If you are wondering how to download Facebook videos on PC, this Facebook downloader gives you an easy answer. With this Faceboook video downloader installed on your computer, all you need is to copy the video URL and then let the video downloader do the rest.
Download Videos for Offline Watching from Other Sites

Copyright disclaimer: We sincerely encourage you to download only copyright-free content or materials published under an open license for your non-commercial use.
Download Music or Audio from Websites for Offline Listening
SurFast Video Downloader also plays the role of an audio downloader that will download online music, songs, and audio from numerous websites.
Download music from YouTube
Download music from SoundCloud
Download audio from Instagram
Download audio from TikTok
Convert Video to MP3 to Extract Audio from Video
Being different from the downloading and converting online video to MP3 feature in video downloader, the video to MP3 converter aims to convert local videos to MP3. This makes it easy for you to sperate and capture audio files you like from video files.
Convert videos to MP3 in high quality
Convert video to MP3 on PC & Mac
Why Choose SurFast Video Downloader
Apart from these amazing features, there are more reasons why you should choose SurFast Video Downloader as your video download helper.

Fast Speed
Compared with online video downloaders and video downloader extensions, a desktop video downloader like SurFast Video Downloader has a faster download speed and works more stably.
High Quality
With this video & audio downloader, you can download videos in high quality like 8K and 4K, and download audio at 320kbps.
Bulk Download
You can download multiple YouTube videos or audio files all at once. To do so, you can add URLs in bulk or add the URL of a playlist or channel to the downloader.
Thumbnail Download
When you come across a video thumbnail you like, you can choose the thumbnail download feature to save the thumbnail from YouTube or other sites to your computer in the highest quality.
Subtitle Download
If the target video has an independent subtitle file, you can download YouTube videos with subtitles by checking the Subtitle option.
Customized Download
While downloading videos from websites like YouTube and TikTok, you can choose the target file format, be it MP4 or WebM, MP3 or WAV according to your need. You can also customize the video or audio quality you prefer.
Video Downloader Edition Comparison
Simple pricing plans for the video downloader.
Playlist/Channel Download
How to Use SurFast Video Downloader
Step 1.
Paste URL
Copy and paste the video URL into the address box. Afterward, SurFast will load the video automatically.
Step 2.
Select The Download Option
Select the video format and quality you need. Then click Download.
Step 3.
Wait For The Download Process To Finish
Wait for the download process to finish and then you can go to the selected folder to check the video.
Tech Spec
Supported OS:
Windows 7, Windows 8, Windows 8.1, Windows 10, and Windows 11
macOS 10.15 and later
What's New
New updates in SurFast Video Downloader:
Optimized user experience
Optimized UI
FAQs on Video Downloader

Unlock Unlimited Video Downloads at the Lowest Price Ever!