Quick Answer:
You can download embedded videos from various sites using the Download button provided by the site or use a third-party video downloader, including SurFast Video Downloader, Video Downloader Plus (Chrome extension), FastSaveNow, and PasteDownload. Besides, you can choose to record embedded videos using a screen recorder like SurFlex Screen Recorder.
Downloading embedded videos from websites is not a difficult task as long as you find a reliable embedded video downloader to assist you. I would like to share some practical tips to help you successfully save streaming videos from websites. By following these tips, you will be able to download embedded videos on your computer or mobile device without any hassle.
Download Embedded Video Directly from the Website
While it is rare, some websites do allow you to download their videos directly, such as Tumblr, TED, and Vimeo (if the publisher permits). Therefore, the simplest method to save embedded videos is to utilize the download option provided by the website itself. Although the specific steps may vary depending on the platform, overall, this is the most convenient solution. Here I'd like to give you some examples:
To download Tumblr videos, right-click the video and choose Save Video.
To download a TED talk, click Share under the video and then click MP4.
To download embedded videos from Vimeo, click the Download button beneath the video below.
However, if the target website disallows video downloads, you will need a third-party video downloader to help. Read on to check the details.
Save Embedded Videos on PC or Mac
Tool: SurFast Video Downloader
Downloading embedded videos on a computer can be made simple and straightforward with SurFast Video Downloader, a safe and fast video downloader that supports over 1,000 sites. With its extensive support for various video sites and social networking platforms, you can freely use it to download embedded videos from any website of your choice. Whether you wish to download YouTube videos to MP4 or save Instagram reels as MP3, SurFast Video Downloader proves to be a helpful tool. In short, if you to download video from any website, it will make it possible.
To download embedded videos on computer:
Step 1. Get the video URL and paste it to SurFast Video Downloader. Then wait for the program to automatically load the embedded video.
Step 2. Select the output format and quality, select the destination folder, and then click Download.
Step 3. Wait for SurFast Video Downloader to download the embedded video for you.
Download Embedded Videos via Chrome
Tool: Video Downloader Plus
Some of you may prefer to download embedded videos using a Chrome extension. Indeed, an embedded video downloader Chrome extension like Video Downloader Plus allows you to download videos from the internet without the need for any software installations, all while staying on the website. Therefore, it is generally regarded as the most convenient method for downloading streaming videos.
To download an embedded video via Chrome:
Step 1. Add Video Downloader Plus to your Chrome and pin it to your taskbar.
Step 2. Go to the target website (make sure it is supported by the plugin) and play the video you want to save.
Step 3. Click the video download extension from the toolbar and wait for it to load the download options.
Step 4. Choose the video format and quality you need and click the Download button next to it.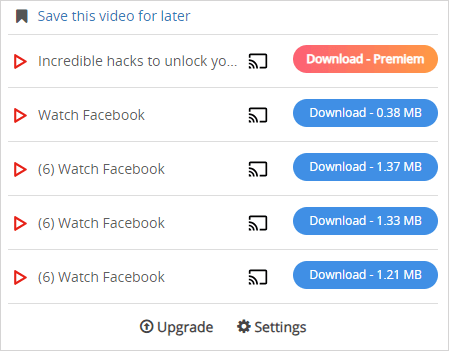 Note: However, there are rare plugins that work stably for downloading videos from any website. While they may function on one site, they might fail on another. Additionally, these plugins can unexpectedly stop working for unknown reasons. Therefore, they are not the best-recommended choice to rely on.
Capture Embedded Video Online
Tool: FastSaveNow
Another equally convenient option for downloading embedded videos from websites is to use an online embedded video downloader like FastSaveNow. FastSaveNow Online Video Downloader Free allows you to download streaming videos from various websites, including Instagram, Twitter, Facebook, Vimeo, Flickr, and more. With this online tool, you can download videos from any website for free.
To download embedded videos online:
Step 1. Make sure the website you want to save videos from is supported by FastSaveNow.
Step 2. Get the video link and go to FastSaveNow.com.
Step 3. Paste the link into the URL field and click Download.
Step 4. When you see the download options, click the one you need.
Step 5. On the new page, click More and choose Download.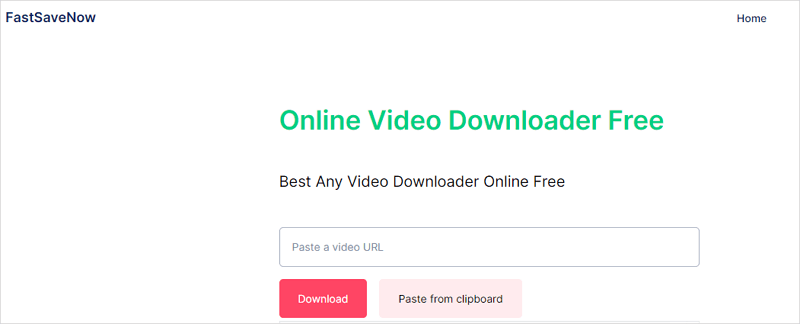 Download Embedded Video on iPhone and Android
Tool: PasteDownload
When you need to download embedded videos on a mobile device, the best option for you is to utilize an online service such as PasteDownload. This online embedded video downloader is compatible with both desktop and mobile platforms, allowing you to easily save embedded videos to your iPhone or Android device for free online.
To download an embedded video on iPhone or Android:
Step 1. Copy the video link.
Step 2. Open a browser and visit PasteDownload.com.
Step 3. Paste the video URL and click Download.
Step 4. When you see the download options, tap and hold on to the one you need and choose the Download link.

Bonus Tip: Rip Embedded Video by Recording
If you encounter difficulties in downloading videos from the internet, there is a reliable method available for saving embedded videos: directly recording streaming videos. By using screen recording, you can capture any video from any website and save it in your preferred format.
To save embedded videos on your computer, you can utilize the versatile screen recorder, SurFlex Screen Recorder. It offers various screen recording modes, allowing you to capture any onscreen content. Additionally, you have the flexibility to customize the output format, quality, and other settings. Whether you wish to save embedded videos as MP4, MP3, or any other format, SurFlex Screen Recorder makes it easy to achieve.
To rip embedded video:
Step 1. Go to Settings to set up your recording preferences, and then choose the Record Screen mode.

Step 2. Choose to record the Full Screen or a Selected Region and then select the target screen, window, app, or a selected portion.

Step 3. Enable audio recording and then choose the option you need. Then click REC to start recording the live stream on your Mac.
Step 4. When you are done, click the Stop icon to stop recording.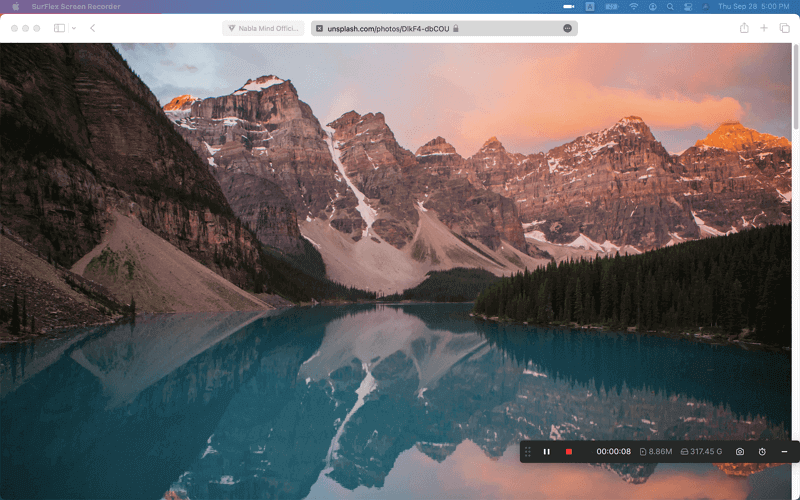 Wrapping Up
With the tips provided in this guide, you will be able to capture any embedded video from various types of websites, including news sites, video sites, and social networking platforms. In cases where an embedded video download app or website fails to work, you can opt to record video from website on your computer or mobile instead, ensuring that you rip the desired content.