Quick Answer:
You can record your screen with voice on your Mac using various options such as the built-in QuickTime Player, a desktop app like SurFlex Screen Recorder, or an online service like Screen Capture.
Recording both your screen and your voice simultaneously is necessary in many situations. For instance, when recording a PowerPoint presentation, capturing a lecture, or similar scenarios, it is essential to record both the screen and the microphone sound to capture your narrations. If you are among the users seeking answers on how to screen record with voice on Mac, continue reading as you will find the easy solutions.
How to Screen Record with Voice on Mac for Free
Tool: QuickTime Player
"How to record my voice and screen with QuickTime on a Mac?"
Indeed, the easiest way to screen record with audio on Mac is to use the native screen recorder on macOS, QuickTime Player. QuickTime Player provides three recording modes, allowing you to record webcam footage, audio, and the screen with audio. Therefore, if you're looking to screen record with voice on your Mac without the need for any additional apps, using QuickTime Player will be sufficient.
To screen record on Mac with voice:
Step 1. Prepare the content you'd like to capture.
Step 2. Launch QuickTime Player and go to File > New Screen Recording to open the menu bar.
Step 3. Click Options and select your microphone as the audio recording device.
Step 4. Select to record the entire screen or a selected region.
Step 5. When you are ready, click Record to start recording the screen with voice on your Mac.

How to Record Screen with Voice on Mac with More Options
Tool: SurFlex Screen Recorder
If you are seeking more customizable options or advanced features while recording the screen and voice on your Mac, using the powerful SurFlex Screen Recorder will better fulfill your needs. It allows you to capture any part of your screen with various audio sources. Additionally, unlike QuickTime, which only saves video recordings in MOV format, SurFlex Screen Recorder enables you to record videos in MP4, MOV, FLV, MKV, and AVI formats on your computer. This flexibility proves especially useful when you want to record MP4 videos on your Mac.
Furthermore, SurFlex Screen Recorder not only captures your on-screen activities and microphone audio but also enables screen recording on Mac with internal audio. In summary, whenever you need to record videos on your Mac, SurFlex Screen Recorder will be a helpful tool.
To screen record with voice on Mac:
Step 1. Go to Settings to set up your recording preferences, and then choose the Record Screen mode.

Step 2. Choose to record the Full Screen or a Selected Region and then select the recording area.

Step 3. Enable audio recording, select Microphone, System Sound, or System Sound and Microphone, and then click REC to start recording your Mac screen with audio.
Step 4. Once you have finished recording, click the Stop button and then preview the video.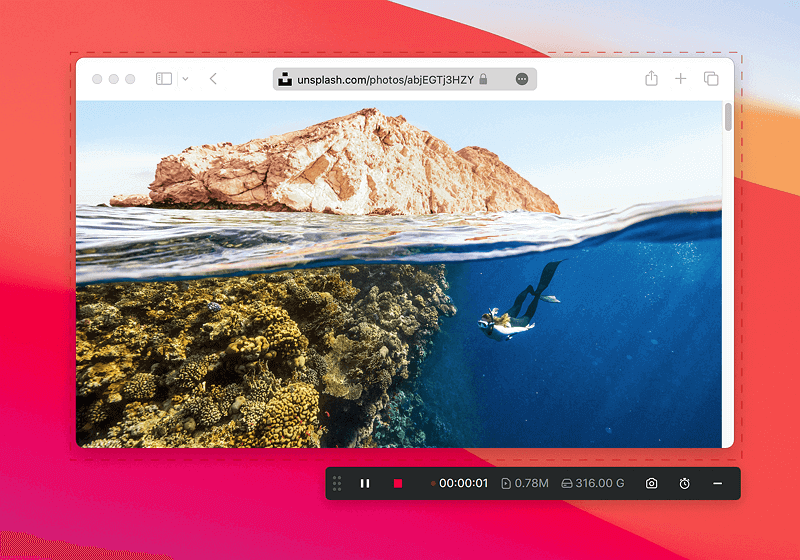 How to Record a Screen Video with Voice on Mac Online
Tool: Screen Capture
Screen recording can also be accomplished using an online screen recorder such as Screen Capture. This tool is available for Chrome, Firefox, and other browsers, and it allows you to record a browser tab, an app window, or the entire screen with webcam and audio, including microphone sound, system sound, or both. If you want to record yourself presenting a PowerPoint, Screen Capture would be a suitable choice.
If you are interested in recording a screen video with your voice on a Mac online, you can follow the steps below to give it a try.
Note: The free version of Screen Capture will add a watermark to your video recording. You can upgrade your plan to remove it.
To screen record with voice on your Mac online:
Step 1. Open your Chrome browser and visit ScreenCapture.com.
Step 2. Check the Microphone option and click Start Recording.
Step 3. Now choose the target tab, window, or screen and click Share.
Step 4. When the screen recording is done, click Stop Sharing.
Step 5. Go back to Screen Capture and click Stop Recording.
Step 6. Preview the video and click Download the MP4 file to your Mac.

Wrapping Up
It's easy to screen record on Mac with audio, especially for microphone sound. If you intend to record your Mac screen with internal audio, you will need to install an additional audio driver such as BlackHole or Soundflower on your Mac and configure it correctly. However, if you only wish to record a video on a Mac with microphone sound, you can do so directly using one of the methods mentioned above.