Quick Answer:
You can download non-downloadable videos by using SurFast Video Downloader, JDownloader, or PasteDownload online video downloader. Additionally, you can choose to capture a video that is not available for download by recording the video with a tool like SurFlex Screen Recorder.
When attempting to download embedded videos, you may come across situations where certain videos are not available for download. However, there are numerous reliable third-party video downloader tools that can assist you in such cases. These tools enable you to download videos even when the Download option is unavailable. If you're interested in learning more details, continue reading to discover how to download non-downloadable videos on your device.
How to Download Non Downloadable Videos on PC & Mac
Tool: SurFast Video Downloader
Whenever you need to download videos from the internet, you can use the versatile video downloader, SurFast Video Downloader, to get your wanted online videos for offline watching. SurFast Video Downloader supports more than 1,000 video sites and social networking sites, including YouTube, Facebook, Twitter, Instagram, Vimeo, Twitch, and more. Whether you want to download YouTube videos or download Vimeo videos not available for download, you can use this tool to finish the task.
When you download streaming videos, you can choose the target video format, and video quality, and download multiple videos in bulk.
Besides, it is an audio downloader that enables you to download online videos to MP3 directly or download online audio for offline listening. If you need to download videos and audio from websites often, don't hesitate to give it a try.
To download non downloadable videos:
Step 1. Paste the video URL or URLs to SurFast Video Downloader and wait for the program to load the video.
Step 2. Set the output settings according to your preferences and click Download. (Customized settings may not be available for some sites.)
Step 3. Wait for the video download process to finish.
How to Download a Video That Is Not Downloadable for Free
Tool: JDownloader
If you prefer a free solution, using JDownloader will fit your needs better. JDownloader is a free and open-source download manager that is capable of downloading videos from the internet. Like SurFast Video Downloader, this app also supports video downloads from various sites, including YouTube, Rumble, Twitch, Vimeo, etc, making itself a practical choice for you to save online videos for offline watching.
To download a video that is not downloadable for free:
Step 1. Download and install JDownloader on your computer.
Step 2. Get the video link and then go to JDownloader > Add New Links.
Step 3. Paste the video URL into the address box and click Continue.
Step 4. Go to the LinkGrabber panel and click the plus icon next to the folder. Then you will see all the download options.
Step 5. Right-click the video option and choose Start Downloads.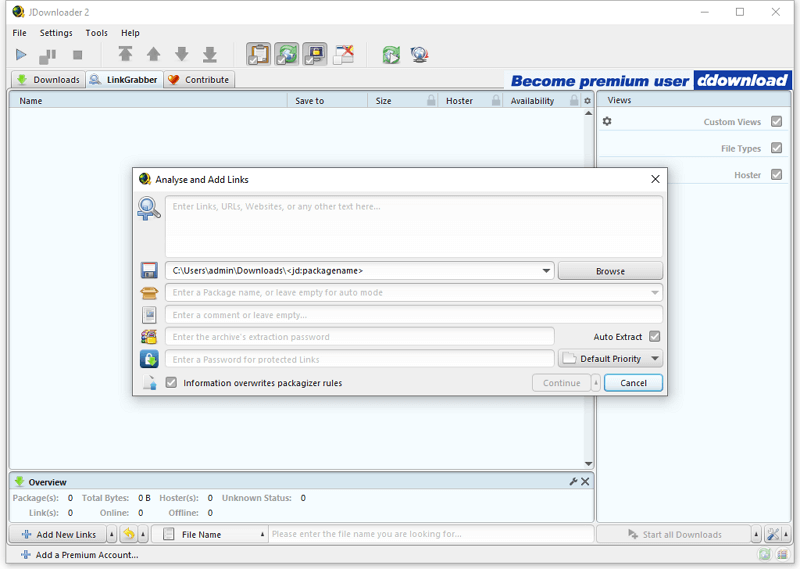 You can also use JDownloader to download audio or images (if any) from websites to your computer.
How to Download Video Without Download Option Online
Tool: PasteDownload
In addition to using a desktop video downloader, you can apply an online video downloader such as PasteDownoad to save videos that are not available for download. PasteDownload has a long support list, including many popular sites, such as Instagram, Twitter, Tumblr, TikTok, and Reddit. If you are looking to download a video that is not downloadable from one of these sites, you can use PasteDownload to capture the video without any software installation.
It's worth mentioning that this website is compatible with both desktop and mobile. Thus, you can use it to download embedded videos to your computer or phone freely.
To download a video without the Download option online:
Step 1. Get the target video link.
Step 2. Open a browser and navigate to PasteDownload.com.
Step 3. Paste the link into the URL field and wait for the website to parse the link.
Step 4. Choose the video quality you prefer and click the Download button underneath.
Step 5. On the new tab, hover over the video, click the three dots, and then choose Download.
Step 6. Go to the Downloads folder on your device to check the video.

How to Capture Non-Downloadable Videos by Recording
Tool: SurFlex Screen Recorder
In some cases, you may not be able to download an embedded video from the internet, no matter which tool you use. That's when you need a screen recorder to help, such as SurFlex Screen Recorder. With this tool, you can record streaming videos and save them in any format you like. Therefore, screen recording is also a workable way of capturing non-downloadable videos from websites.
To capture an non downloadable video:
Step 1. Go to Settings to select the video format and quality, and then choose the Record Screen mode.

Step 2. Choose between Full Screen or Selected Region. If you choose the latter, you will need to select the recording area.

Step 3. Enable webcam and audio recording if needed and then click REC to start recording the online video.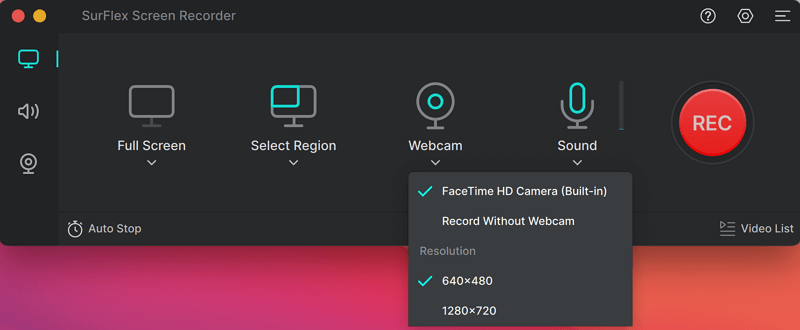 Step 4. After the recording, click the Stop icon and check the recorded video.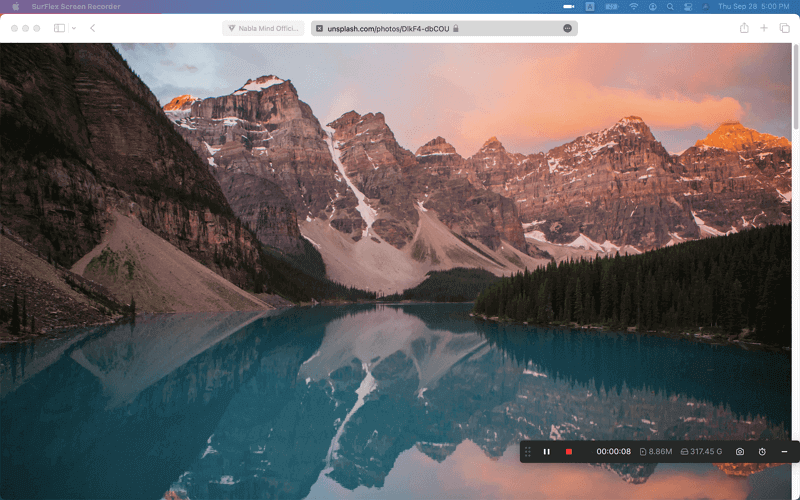 Wrapping Up
If the website you want to download videos from doesn't offer a Download option, you can try a third-party video downloader such as SurFast Video Downloader, JDownloader, and PasteDownload to rip online videos. If none of the video downloaders works, don't fret. You can apply a screen recorder like SurFlex Screen Recorder to capture any video you like.