Quick Answer:
You can easily record Twitter videos on your computer or phone by using SurFlex Screen Recorder, Awesome Screen Recorder, or the built-in screen recorder on your mobile. Additionally, you can choose to capture Twitter videos by downloading them with a tool like SurFast Video Downloader.
Can You Record a Video from Twitter
Yes, you can record a video from Twitter with the help of screen recorders. Whether you are going to capture Twitter videos on a computer or mobile, you can use the built-in or third-party screen recording tool to record Twitter videos successfully.
If you want to record a Twitter video to capture online content, read on to get the tested and worked ways.
Record Twitter Video on a Computer
Tool: SurFlex Screen Recorder
Whether you are looking to record an uploaded video or live video from Twitter on your computer, you can use SurFlex Screen Recorder to get it done. This screen recorder allows you to capture the whole screen or any selected portion of the screen with audio and save the video recording in your preferred video format and quality. Therefore, you can use it to record a video from Twitter or record streaming video from other platforms without any hassle.
Moreover, the audio recording feature allows you to get sound on Twitter videos, making it easy for you to save a Twitter video to MP3 or other formats.
To record a Twitter video on a computer:
Step 1. Go to Settings to select the video format and quality, and then choose the Record Screen mode.

Step 2. Choose between Full Screen or Selected Region. If you choose the latter, you will need to select the recording area.

Step 3. Enable webcam and audio recording if needed and then click REC to start recording the online video.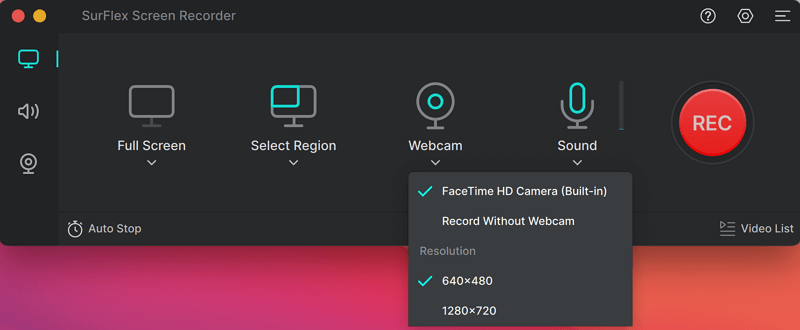 Step 4. After the recording, click the Stop icon and check the recorded video.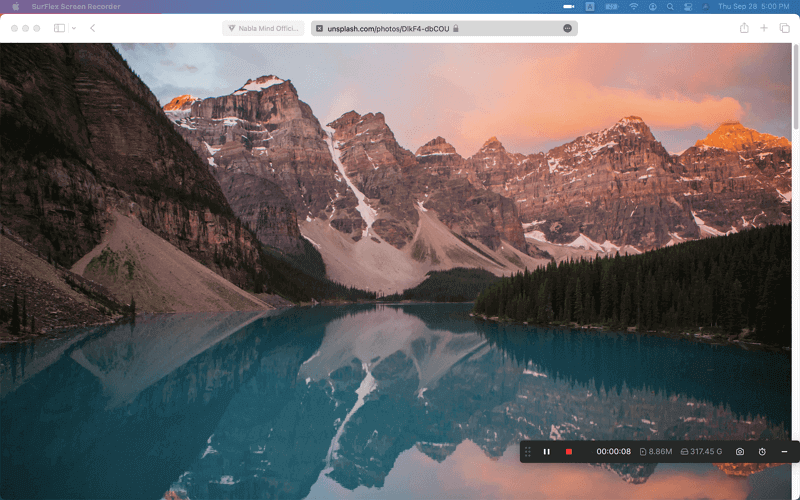 Screen Record Twitter Online
Tool: Awesome Screen Recorder
When you want to record videos on your computer, there are web-based screen recorders available to assist you, such as Awesome Screen Recorder. By adding this extension to your browser, such as Chrome, you can easily record a browser tab (or a selected portion), a window, or a desktop with audio. This feature enables you to record Twitter videos effortlessly.
Step 1. Add an Awesome screen recorder to your browser and pin it to the toolbar.
Step 2. Click it and sign in.
Step 3. Go to Twitter, now called X, and play the video you want to record.
Step 4. Click the screen recorder from the toolbar and choose Custom (This Tab).
Step 5. Set up other recording settings according to your needs.
Step 6. Click Start Recording.
Step 7. Select the target recording area and click Record.
Step 8. When needed, click Stop.
Step 9. Preview the video and click Download to save the Twitter video to your device.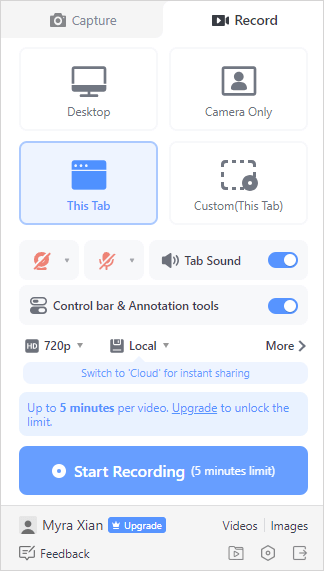 Of course, there are many other ways for you to screen record Twitter. For more workable tips, refer to the guide on how to screen record on PC or how to screen record on Mac.
Record Twitter Videos on iPhone and Android
Tool: Built-in Screen Recorder
To record videos from Twitter on your mobile device, you can use the built-in screen recorder. Both iPhone and Android have a built-in screen recording feature that helps to record your phone screen and the internal audio. Thus, you can use the native feature to record video from websites directly.
To record a video from Twitter on iPhone or Android:
Step 1. Add the screen recorder to your Control Panel or Control Center.
Step 2. Open the Twitter app and prepare the video you want to record.
Step 3. Swipe down from the top of the screen to open Control Panel or Control Center.
Step 4. When you are ready, tap Screen Recorder to start recording the Twitter video.
Step 5. When you are done, tap the recording bar and choose Stop.
Step 6. Go to the Photos or Gallery app to check the video.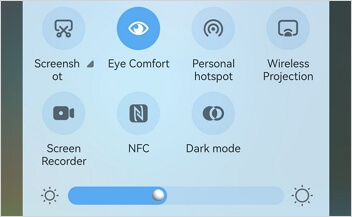 Bonus Tip: Download Twitter Videos with Ease
Tool: SurFast Video Downloader
When you want to capture a video from Twitter, recording it may not be the best solution compared to downloading it. By downloading a Twitter video, you can preserve its quality, and most importantly, it is a more effective way to save videos from Twitter. Therefore, I would like to recommend trying SurFast Video Downloader to get the Twitter videos you like.
SurFast Video Downloader allows you to download videos from Twitter in MP4 format, with the ability to choose your preferred video resolution. It is also helpful for capturing videos from other platforms such as YouTube, TikTok, Facebook, Instagram, and more.
In summary, whether you want to capture videos from Twitter or other websites, using SurFast Video Downloader will serve you well.
To download Twitter videos:
Step 1. Click Paste URLs, paste the Twitter video URL, then click Confirm.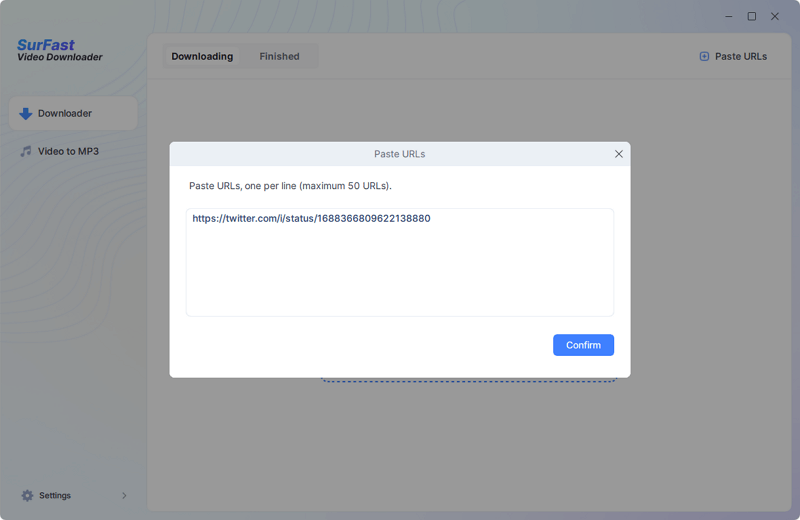 Step 2. Select the video format and resolution, then click Download.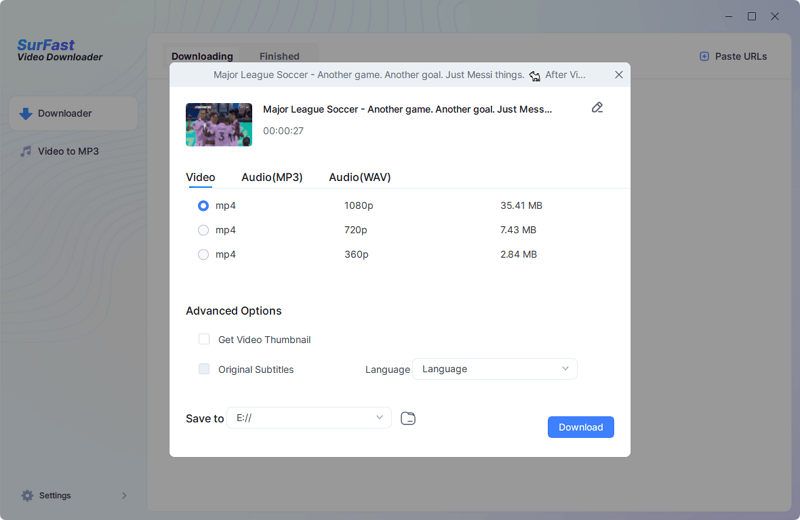 Step 3. Wait for the Twitter video download process to finish.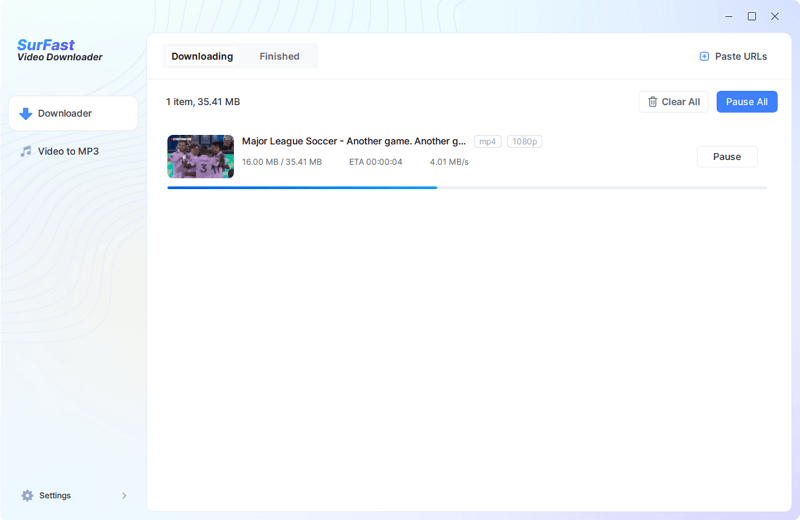 Wrapping Up
Although it's not difficult to screen record Twitter videos, it is not the optimal choice for capturing them. Instead, it is advisable to download Twitter videos, which saves you time and effort. Regardless of the method you choose, you can find the corresponding solution here.