Quick Answer:
You can download high-quality YouTube audio using desktop tools or online services like SurFast Video Downloader, YouTube 4K Downloader, and Anything2MP3.
Higher audio quality means a better audio listening experience. Therefore, it's not surprising that when you download YouTube audio, you prefer to save it in high quality, such as MP3 in 320kbps or lossless WAV. If that's what you want, check the tips below and you will know how to download YouTube audio in high quality in different formats, including MP3, WAV, M4A…
Download YouTube Audio in High Quality on Computer
Do you want to download music from YouTube to computer in MP3 format at 320kbps? Do you want to convert YouTube to WAV losslessly? If you do, using the safe and fast YouTube audio downloader, SurFast Video Downloader, will be helpful. With this tool, you will be able to:
Convert YouTube videos to audio
Download music from YouTube or YouTube Music
Download YouTube audio in MP3 in 320kbps, 256kbps, and 128kbps
Convert YouTube to WAV losslessly
When you need to download YouTube audio in high quality, you can choose to download YouTube to MP3 in 320kbps or convert YouTube to WAV directly.
To download YouTube audio in high quality on computer:
Step 1. Launch SurFast Video Downloader and paste the YouTube link.
Step 2. After it loads the download options, select the MP3 format, choose an audio quality, and then click Download.
Step 4. Wait for the audio download process to complete, and then click Open to check the MP3 file.
Rip Music from YouTube in High Quality for Free
If you are looking to rip music from YouTube in high quality and in formats such as MP3, WAV, M4A, WebM, and more, you cannot overlook the online YouTube audio downloader, YouTube 4K Downloader. Upon pasting a YouTube link, this online service generates various download options, allowing you to download the video, download the video without sound, or download the audio only.
When you choose to download YouTube audio, YouTube 4K Downloader offers different formats with varying levels of quality, enabling you to easily rip music from YouTube in high quality without any cost.
To rip music from YouTube in high quality:
Step 1. Get the YouTube link.
Step 2. Open a browser on your device and visit YouTube4KVideo.com.
Step 3. Paste the link and wait for the site to generate download links.
Step 4. Go to the Download Sound Only section.
Step 5. Check all the formats and quality levels and click Download next to the option you like.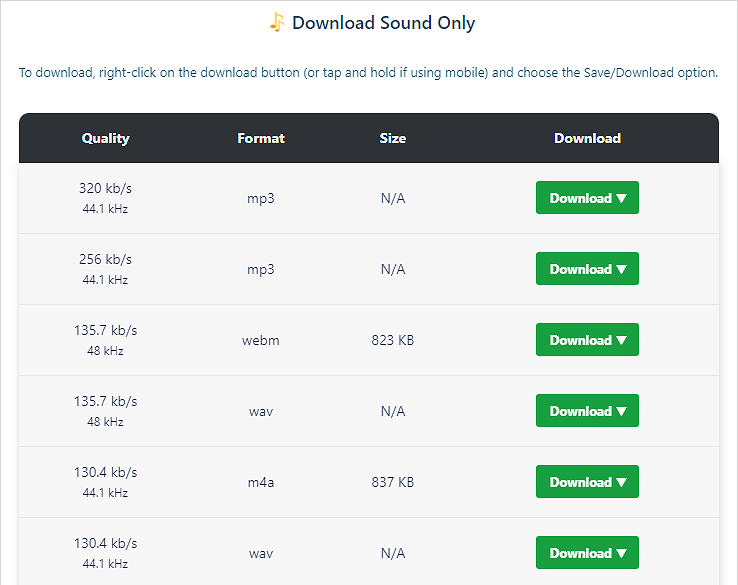 Perform YouTube Audio Download in High Quality Online
If you specifically want to extract audio from YouTube videos (excluding YouTube Music), you can give Anything2MP3.cc a try. This online converter is designed to download and convert YouTube videos into various audio formats such as MP3, OGG, AAC, and WMA. It offers different bitrate options including 320kbps, 192kbps, 128kbps, and 96kbps. Whether you prefer a high-quality YouTube audio download to enhance your listening experience or lower-quality downloads to save storage space on your device, this tool will be helpful.
To complete YouTube audio download in high quality:
Step 1. Open a browser and go to Anything2MP3.cc.
Step 2. Paste the link to the URL field and click Download File from URL.
Step 3. Select the output audio format and choose the bitrate you need. Then click Convert File.
Step 4. After the conversion, click the file name to download the YouTube audio to your device.

Wrapping Up
If you are using a computer to download audio or music from YouTube, using a desktop app is the best choice. However, if you are using a mobile phone or tablet, using an online YouTube audio downloader is the most suitable option.