Quick Answer:
You can download a YouTube music playlist on your computer or mobile using SurFast Video Downloader (for PC & Mac), 4K Video Downloader (Android), and YouTubePlaylist.cc (online service).
Downloading a single YouTube video or audio is typically easy and straightforward. But that's not the case when it comes to YouTube playlist download since many web-based services won't be able to download YouTube playlists and you can only get help from desktop or mobile apps.
Thus, when you are looking for a YouTube music playlist downloader, the recommended options are generally apps that need to be installed. If you want to download a YouTube music playlist at once but don't know which tool to use, check the proven methods below and use any of them to download the YouTube playlist to MP3, WAV, and more successfully.
Download YouTube Music Playlist on Computer Easily
Downloading a YouTube music playlist on a computer is generally easier compared to mobile devices. This is due to the availability of powerful desktop YouTube playlist downloaders that allow you to safely and quickly download YouTube music playlists. One such reliable YouTube music playlist downloader is SurFast Video Downloader.
With this app installed on your PC or Mac, you will be able to download all YouTube videos or audio files from a playlist at once. For example, you can download a full YouTube playlist to WAV, MP3, MP4, and more freely using this YouTube playlist downloader. Whether you are going to download a playlist from YouTube.com or download a music playlist from YouTube Music, it will do you a favor.
To download a YouTube music playlist:
Step 1. Copy the URL of a playlist from YouTube and then paste it to SurFast Video Downloader.
Step 2. Select the output format as audio and choose the format you like. Set up other related settings and click Download.
Step 3. Wait for SurFast Video Downloader to download the YouTube music playlist, then go to the selected folder to check the items.
YouTube is not the only website that SurFast Video Downloader supports. As a versatile video downloader for desktop, this app supports more than 1,000 sites, including YouTube, TikTok, Twitter, Instagram, Twitch, Vimeo, and more. Whenever you need to download audio or videos from the internet, you can use it to have a try.
Download a YouTube Music Playlist on Phone
If you're looking for a YouTube playlist downloader app to download YouTube audio or video directly to your phone, 4K Video Downloader for Android is a recommended option worth trying.
This powerful app allows you to download an entire YouTube music playlist in bulk, converting it to formats such as MP3, MP4, or other video/audio formats of your choice. Whether you wish to download all the videos or extract only the audio songs from a YouTube playlist, 4K Video Downloader for Android simplifies the process and makes it convenient for you.
Download and install it on your Android phone from its official site and then follow the steps below to download a YouTube music playlist on your phone.
To download a YouTube music playlist:
Step 1. Copy the URL of the YouTube music playlist.
Step 2. Open 4K Video Downloader and click Settings to set the output format.
Step 3. Click Paste Link and wait for the YouTube music playlist download process to finish.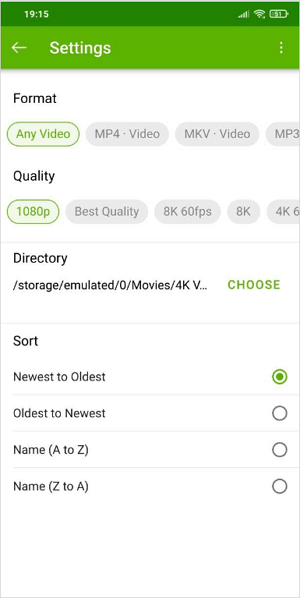 Download YouTube Music Playlist Online for Free
Among all the online YouTube playlist downloaders I've tried, YouTubePlaylist.cc is the only one that works to download YouTube playlists at once. Thus, when you want to download YouTube playlist online, using YouTubePlaylist.cc is a feasible choice.
While it is not entirely free (as downloading YouTube playlists is typically a paid feature in most YouTube video downloaders), YouTubePlaylist.cc provides 15 free quotas per day. This enables you to download YouTube music playlists for free within the allocated quota.
To download music from a YouTube playlist online:
Step 1. Copy the YouTube music playlist URL.
Step 2. Go to YouTubePlaylist.cc and sign in.
Step 3. Paste the URL into the link field and then wait for the website to load the items.
Step 4. Select the output options.
Step 5. Select the items you want to save and click Download All > Download ZIP.
Step 6. Go to the Downloads folder on your computer and unzip the file to check the videos.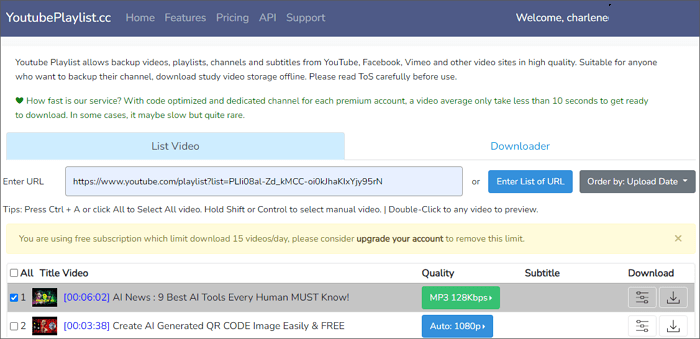 Wrapping Up
Whenever you have the need to download a YouTube playlist, you can utilize the aforementioned tools to accomplish the task. However, it's important to be aware that many tools claim to have the ability to download YouTube playlists, but in reality, they only load all the items and require you to click the download button for each item individually. Therefore, when selecting a YouTube music playlist downloader, it is crucial to be cautious of these deceptive tactics. Make sure to choose a downloader that truly supports batch downloading of YouTube playlists, allowing you to download all the items in the playlist conveniently.