Quick Answer:
You can download YouTube audio on your computer or mobile with these tools: SurFast Video Downloader, JDownloader, YTMP3, and TubeRipper.
Although many users want to download videos from YouTube, some may only be interested in downloading audio for offline listening, saving device space, or other purposes. Fortunately, even though YouTube doesn't offer an official way to extract audio only, there are numerous third-party tools and services available that allow you to download YouTube audio to your computer or mobile device without any hassle. If you want to turn a YouTube video into an audio file, read this guide to learn how to do it easily.
Download YouTube Audio on Mac
Tool: SurFast Video Downloader for Mac & PC
When it comes to YouTube audio download on Mac, you can use SurFast Video Downloader, a safe video and audio downloader for Mac. It serves well to extract audio from YouTube videos and download music from YouTube Music, perfectly fulfilling your needs for downloading YouTube audio.
When you download audio from YouTube to your Mac, you can choose to save the audio files in MP3 or WAV format. Both are popular audio formats that have good compatibility.
Besides, SurFast Video Downloader supports bulk downloads. When you want to convert a full playlist to MP3 or WAV, it will do you a favor.
To download YouTube audio on Mac:
Step 1. Launch SurFast Video Downloader on your Mac or PC and then paste the video URL into the box.
Step 2. After the program loads the media files, choose any of the Audio options and select the audio quality. Then click Download.
Step 3. Wait for SurFast Video Downloader to download and save the audio file to your computer.
If you want a cost-free solution, you can check the guide on how to download YouTube audio to Mac for free to get proven tips.
Save Audio from YouTube on Windows
Tool: JDownloader
Although the SurFast Video Downloader mentioned above is also compatible with Windows and allows you to download audio from YouTube to computer, here I'd like to introduce another worth trying YouTube audio downloader for you to convert YouTube videos to audio on Windows, which is JDownloader.
JDownloader is a free and open-source download manager that is helpful for downloading streaming audio and video files. It supports YouTube and many other video or audio streaming sites and works effectively to download audio from websites in MP3, M4A, and more. If you prefer to download YouTube audio for free, using this freeware is recommended.
To download audio from YouTube on Windows:
Step 1. Download and install JDownloader on your PC or laptop.
Step 2. Copy the YouTube URL you want to extract audio from.
Step 3. Open JDownloader, click Add New Links, paste the URL, and then click Continue.
Step 4. Head to the LinkGrabber panel and then expand the folder.
Step 5. Find the audio file, right-click it, and then choose Start Downloads.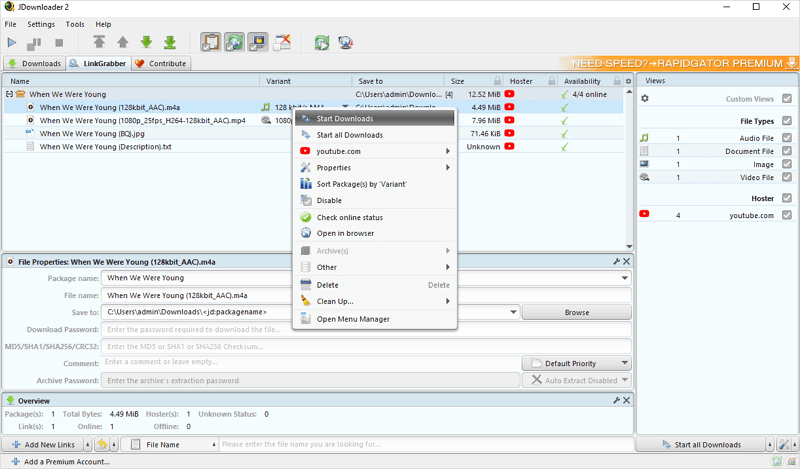 Rip Audio from YouTube on Android
Tool: YTMP3
If you are looking to turn a YouTube video into an MP3 file on your Android, you can't miss YTMP3. This online YouTube audio downloader enables you to download any YouTube link to MP3 easily and is compatible with both desktop and mobile. Thus, you can also use it to save YouTube audio to computer in MP3 format.
By the way, unlike many other YouTube audio downloaders that only rip audio from YouTube, YTMP3 also helps to download songs from YouTube Music. Thus, it's an unmissable online YouTube audio download website for downloading audio or music from YouTube.
To download YouTube audio to Android online:
Step 1. Copy the YouTube link.
Step 2. Open a browser on your phone and then visit YTMP3.
Step 3. Paste the YouTube URL into the link field and tap Convert.
Step 4. Tap Download to save the audio file to your phone.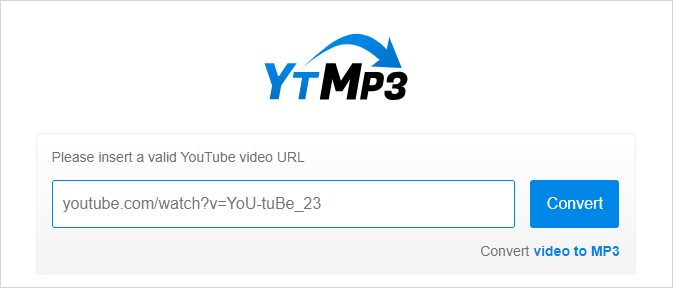 Download YouTube Audio Only on iPhone
Tool: TubeRipper
Ripping audio from YouTube to an iPhone can be easily achieved with TubeRipper, a free and easy YouTube to audio converter that works on all platforms. TubeRipper provides a smooth and simple process for you to convert YouTube to audio in MP3, WAV, M4A, OGG, and many other formats. Whether you want to download YouTube to popular MP3 format or lossless WAV, it will serve you well.
To extract audio from YouTube on iPhone:
Step 1. Open Safari and visit TubeRipper.cc.
Step 2. Paste the YouTube URL and click the Go icon.
Step 3. Tap Extract Audio to save the YouTube audio file to your iPhone.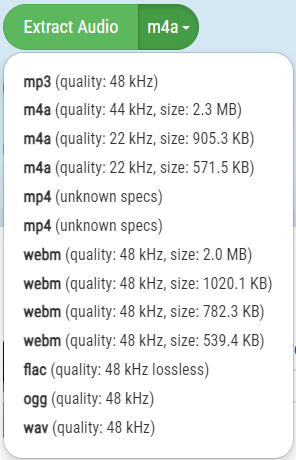 More Tips on YouTube Audio Download
In addition to the aforementioned tools, there are many other ways to get YouTube audio files for offline use. Here are some alternative methods you may like:
How to save YouTube audio with VLC?
To download YouTube audio with VLC media player, you need to download YouTube videos with VLC first and then convert the video to MP3 or other audio formats by going to Media > Convert/Save.
How to get YouTube audio with a Chrome extension?
Due to the limitations imposed by Chrome Web Store, many Chrome extensions that help to get YouTube audio before stop working now. Thus, if you want to capture YouTube audio with a Chrome extension, it's advisable to use the Chrome Audio Capture extension, which can record audio from YouTube and save it in MP3 or WAV format.
How to download audio from YouTube online?
There are websites that enable you to rip YouTube audio online:
YTMP3
YouTube 4K Downloader
SaveTube
X2Mate
Y2Mate
GetMP3
Wrapping Up
Given the variety of methods available, downloading audio files from YouTube in MP3 or other formats is not a difficult task. Additionally, all of the aforementioned methods are also useful for downloading YouTube videos. If you need to save videos from YouTube to your computer or mobile phone in the future, you can still utilize the tools mentioned in this guide for assistance.