Quick Answer:
There are four free Vimeo Downloader tools that you can use to download videos from Vimeo at no cost:

1. SaveTube
2. PasteDownload
3. Video Downloader VeeVee
4. 4K Video Downloader
There are various Vimeo video downloader tools and services available, and many of them are free. Therefore, when you are in need of a free Vimeo downloader, there is more than one suitable choice for you. If you don't know how to download Vimeo videos not available for download, any of the Vimeo downloader tools below will help.
Free Vimeo Downloader Online: SaveTube
If you haven't come across SaveTube, an online Vimeo video downloader, before, you're in for a delightful surprise now that you've discovered it. Undoubtedly, it surpasses any other free Vimeo video downloader you may have previously used. If you give it a try, you will know that I'm telling the truth.
SaveTube features a clean and refreshing interface, devoid of advertisements and redirections. When you utilize it to download Vimeo video, the entire process proceeds seamlessly. Moreover, it provides an extensive array of download options, catering to your preferences for video formats and quality. For example, you can use it to download Vimeo to MP4 or MKV in various quality levels, ranging from 320p to 2K, and convert Vimeo to MP3, WAV, or M4A in 320kbps, 255kbps, and more.
Most importantly, it is completely free to use, making it the top choice when it comes to a free Vimeo downloader.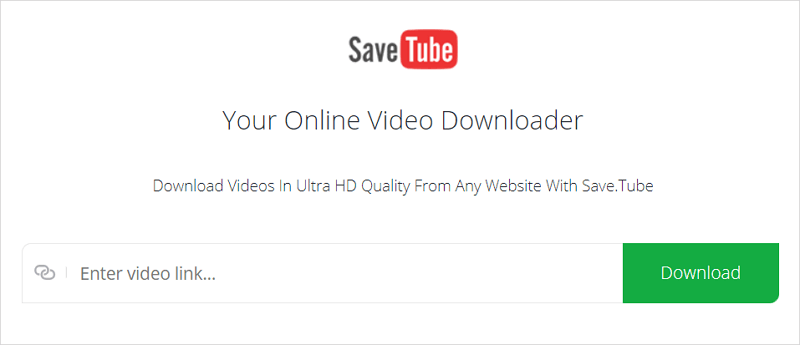 All-Inclusive Free Vimeo Video Downloader: PasteDownload
Regarding Vimeo video download options, PasteDownload may not provide as extensive choices as SaveTube mentioned above, but it has its own advantages – supporting multiple websites, such as Vimeo, Dailymotion, Facebook, Twitter, Instagram, and more, nearly 1000 sites in total. If you want to download videos from any website online, using PasteDownload is a better choice given its wide website support.
When you use this free Vimeo downloader to download Vimeo videos, you will be able to download Vimeo to MP3 in 720p, and more. If you are looking for a Vimeo HD downloader, you can consider using this tool.

Free Vimeo Downloader Extension for Chrome & Firefox: Video Downloader VeeVee
In addition to using an online Vimeo video downloader, you can also use Vimeo video download extensions to download videos from Vimeo for free. Video Downloader VeeVee is a tested-and-worked choice for both Chrome and Firefox users.
Using browser extensions is even simpler than using online tools, as it eliminates the process of copying the video address and adds an embedded download button on the Vimeo page. Therefore, they are also preferred choices if you want to download Vimeo video online.
Video Downloader VeeVee assists you in downloading Vimeo videos directly from your browser's toolbar. Once you add and pin it to your browser, you can simply click the icon and choose the desired video quality for downloading whenever you watch a video.
If you want more choices, go to the Vimeo downloader Chrome extension or Firefox Vimeo downloader add-on recommendations.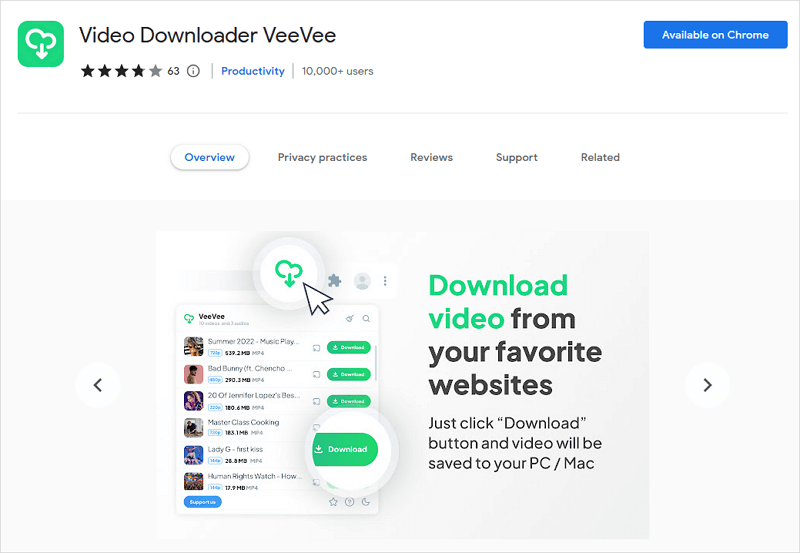 Fast Vimeo Downloader Free for Use: 4K Video Downloader
While the aforementioned tools are convenient to use, they may not be suitable for all situations. For instance, when you want to download long videos, using online services may be sluggish. In cases where you need to download lengthy or multiple Vimeo videos, a desktop download tool becomes essential. Therefore, the final recommendation is 4K Video Downloader.
Although it is not a completely free Vimeo downloader, it provides 30 daily download allowances, which should meet the daily downloading needs of most users. Hence, I consider it a viable option as a free Vimeo downloader. Being a desktop tool, it boasts powerful features, allowing you to download Vimeo videos in various formats and qualities, as well as directly convert Vimeo to audio. And it's compatible with macOS, Windows, and Anroid, making itself a free Vimeo downloader for Mac, PC, and Android devices. If you are looking to quickly download Vimeo videos for free, it is the best choice.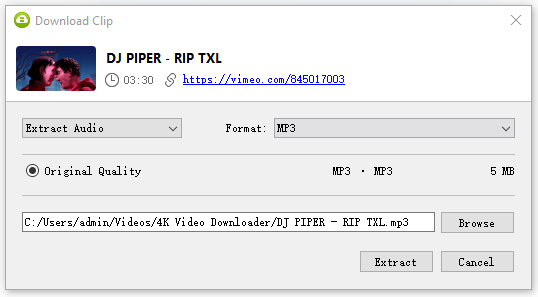 Download Vimeo Video for Free
After you pick up the Vimeo video downloader you like, now you can follow the steps below download Vimeo videos for free:
To download a Vimeo video for free with an online or desktop Vimeo downloader:
Step 1. Copy the Vimeo video link, paste it to the video downloader, and then click Download.
Step 2. Select the video format and quality you like and click Download.
Step 3. Wait for the video download to finish.
Step 4. Go to the Downloads folder or the selected folder to check the video.
To download Vimeo videos for free via a browser extension:
Step 1. Add the extension to your browser and pin it to the toolbar.
Step 2. Go to the Vimeo website and play the video you want to save.
Step 3. Click the icon of the Vimeo downloader and choose an option to download.
Step 4. Go to the Downloads folder to view the video.
Download Vimeo Videos for Free: FAQs
When you save Vimeo videos, you may also want to know:
How to download a Vimeo video with a URL?
You can use an online Vimeo video downloader or a desktop app to download a Vimeo video with a URL. For instance, to save a Vimeo video for offline watching via SaveVideo:
1. Copy the Vimeo video link.
2. Paste the Vimeo link to SaveVideo and click Download.
3. Click Download video file to save the item to your device.
How to download Vimeo to MP4?
There are tools that are helpful to download Vimeo to MP4:
1. SaveTube
2. FastSaveNow
3. Video Downloader Professional: browser extension
How to download Vimeo videos online?
To download Vimeo videos online, use one of the online services below:
1. YouTube 4K Downloader
2. SaveFrom
3. TubeRipper
4. PasteDownload
Wrapping Up
The most suitable free Vimeo downloader for you will vary depending on your specific needs. If you are only downloading short videos, using online tools is the most convenient option. However, if you intend to download long videos or high-quality videos, using desktop software is the most effective and stable approach, as it may save you from waiting for an extended period. It is essential to specify your requirements and choose the method that best suits your preferences in order to effortlessly obtain your favorite videos.