Quick Answer:
There are three proven Vimeo downloader Firefox add-ons:

1. Video Downloader VeeVee
2. Awesome Vimeo Downloader
3. Video DownloadHelper
Just like many users need Vimeo downloader Chrome extensions, if you get used to using Firefox on your computer, you may need Vimeo downloader Firefox add-ons so that you can download Vimeo videos via Firefox directly. If that's what you want, check the Firefox Vimeo downloader extensions below and pick up the one you like to download videos from Vimeo to your computer effortlessly.
Free Vimeo Downloader Firefox Extension: Video Downloader VeeVee
Video Downloader VeeVee is an incredibly useful Vimeo video download extension. It is available for both Firefox and Chrome browsers. Once added to your browser, you can easily download Vimeo videos to computer by simply clicking on the download options provided on the browser toolbar. This Firefox Vimeo downloader offers multiple resolution options when downloading a Vimeo video, allowing you to effortlessly download videos in 720p, 1080p, and more. The best part is that it is completely free to use. If you are seeking a free Vimeo downloader Firefox add-on, it is the optimal choice.
One advantage of this Vimeo video download extension over other tools is that it can load all Vimeo videos on the same page. That means you don't need to click and play other videos one by one if you also want to download them from Vimeo.
To download Vimeo videos via Firefox:
Step 1. Go to Add-ons for Firefox, search for Video Downloader VeeVee, add it to your Firefox, and then pin it to the toolbar.
Step 2. Visit the Vimeo website using Firefox.
Step 3. Find and click the Vimeo video you want to download.
Step 4. While it is playing, click the icon of the Firefox Vimeo downloader to access the download options.
Step 5. Click Download next to the resolution you need to start downloading the item to your computer.
Step 6. Click Go to files to check the downloaded Vimeo video.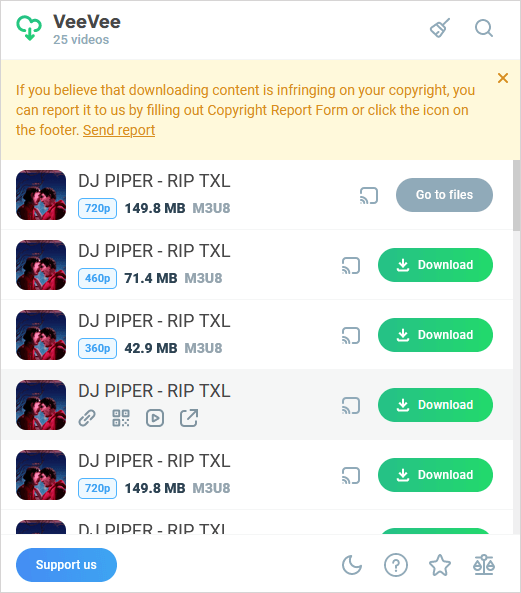 Easy Firefox Vimeo Downloader: Awesome Vimeo Downloader
Another excellent Firefox add-on for Vimeo video downloads is the Awesome Vimeo Downloader. This free and user-friendly add-on allows you to directly download Vimeo videos within Firefox. I placed it after Video Downloader VeeVee because, with this add-on, you need to navigate to a new page for the Vimeo video download (although it happens automatically). Additionally, it saves your videos in the TS file format, requiring a media player that supports this format to watch them. However, the good news is that it also supports downloading Vimeo videos in high quality. If you are looking for a Vimeo HD downloader, it is a preferred choice.
To download a Vimeo video via Firefox:
Step 1. Add Awesome Vimeo Downloader to Firefox and pin it to your toolbar.
Step 2. Go to Vimeo and play the target video.
Step 3. Click Awesome Vimeo Downloader from the toolbar.
Step 4. Click the resolution you need.
Step 5. In the new tab, the video will be downloaded and saved to your Firefox automatically.
Step 6. Go to the Downloads folder to check the video.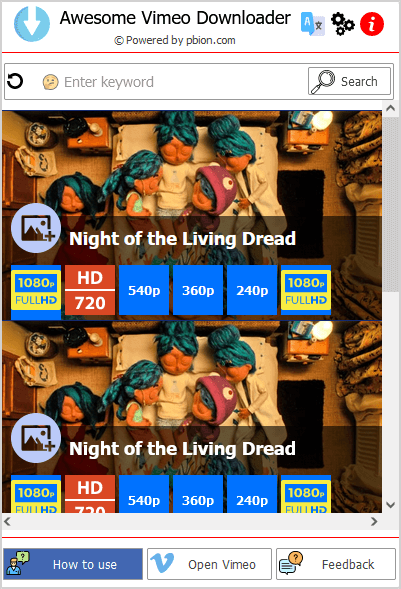 All-in-One Vimeo Downloader Firefox Extension: Video DownloadHelper
Video DownloadHelper is an all-in-one video downloader that supports downloading videos from various platforms, including Vimeo, Dailymotion, YouTube, Facebook, Twitch, and more. You can select the desired video quality and easily convert Vimeo to MP4 format.
However, to download Vimeo videos in high quality, this tool requires a companion app and payment. If you don't frequently download videos from the internet using Chrome, to be honest, using this Firefox video downloader may not be necessary, as there are numerous online options available for downloading Vimeo videos for free.
Step 1. Add Video DownloadHelper to your Firefox and add its companion app as required.
Step 2. Visit Vimeo and play the video you want to save.
Step 3. Click the icon of the Vimeo downloader and choose Download.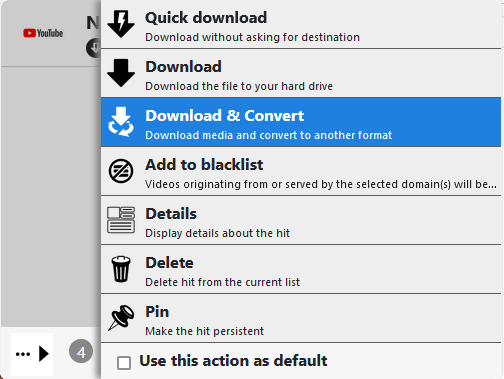 Vimeo Video Download Extension: Alternatives
In reality, the options for Vimeo downloader Firefox extensions are quite limited, and some of them are not very effective. However, you can explore alternative types of Vimeo video downloaders to easily download Vimeo videos to your computer. For instance, you can try using online downloaders or desktop software specifically designed for Vimeo video downloads.
Online Vimeo Downloaders for Firefox
An online Vimeo video downloader website for Firefox also helps to download Vimeo videos via Firefox effortlessly. Without any software installation, you can download Vimeo videos for free using such a service. There are some helpful websites:
YouTube 4K Downloader
TubeRipper
SaveTube
SaveVideo
Video Downloader for Mac & PC
There is always a risk of online tools being banned by browsers or plugin stores, which is why some tools that used to be able to download videos from certain websites no longer work. Therefore, the most stable type of tool is desktop software, such as SurFast Video Downloader. It can assist you in downloading videos from any website, including Vimeo. If you frequently need to download online videos, it is highly recommended to give this tool a try.
Download Vimeo Videos via Firefox: FAQs
When you use a Firefox Vimeo video downloader, you may also want to know:
How to download Vimeo videos for free?
Most of the online video downloaders are free to use, such as:
1. SaveFrom
2. PasteDownload
3. FastSaveNow
4. SaveVideo
5. TubeRipper
How to download Vimeo videos to Firefox?
You can use a Vimeo downloader extension or website to download Vimeo videos to Firefox, such as:
1. Firefox extension: Video Downloader VeeVee and Awesome Vimeo Downloader
2. Online services: SaveVideo, YouTube 4K Downloader, and SaveTube
How to install Video DownloadHelper on Firefox?
To install Video DownloadHelper on Firefox:
1. Open Firefox and choose Extension.
2. Search for Video DownloadHelper and click it from the result page.
3. Click Add to Firefox and choose Add to confirm.
Wrapping Up
Using a Vimeo download extension to save Vimeo videos is not difficult. The challenge lies in finding an effective plugin. Hopefully, the recommended tools mentioned above can help you successfully download videos from Vimeo to your computer. If you are not satisfied with them, you can utilize the online or desktop Vimeo video downloaders recommended earlier to effortlessly rip Vimeo videos