Quick Answer:
There are the online Vimeo Downloader websites that are free to use:

1. YouTube 4K Downloader
2. FastSaveNow
3. TubeRipper
4. SaveVideo
Although there are many online Vimeo downloader websites available, their performance varies. Some of them are overloaded with ads and redirections, while others are clean and smooth to use. To ensure a smooth online Vimeo video download experience, there are four user-friendly and easy-to-use online Vimeo downloader websites. With any of these options, you will be able to download Vimeo video you desire without any hassle.
Capable Vimeo Downloader Online: YouTube 4K Downloader
If you haven't heard of the online video downloader called YouTube 4K Downloader before, you're in for a pleasant surprise now that you've discovered it. Without a doubt, it surpasses any other online Vimeo video downloader you may have used in the past. Once you give it a try, you'll realize that my words are not an exaggeration.
YouTube 4K Downloader boasts a clean and refreshing interface, free from advertisements and redirections. When you use it to download videos, the entire process is remarkably smooth. Most importantly, it offers a wide range of download options, catering to your preferences for video formats and quality. whether you want to download Vimeo videos, videos without sound, or sound only, it will get it done, making it easy for you to convert Vimeo to MP4 in HD or convert Vimeo to MP3 in 320kbps.
Therefore, when you are in need of a Vimeo online downloader, it is my top recommended choice.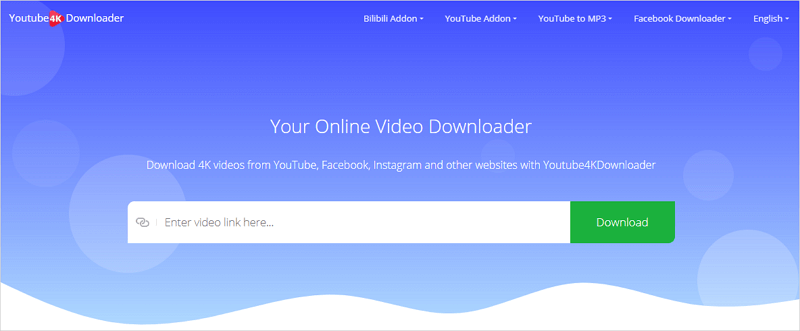 Free Vimeo Downloader Online: FastSaveNow
Regarding Vimeo video download options, FastSaveNow may not offer as many choices as YouTube 4K Downloader, but it has its advantages – supporting multiple websites, including Vimeo, Dailymotion, Facebook, Twitter, Instagram, and more, totaling over fifty platforms. If you frequently download videos from the internet, using FastSaveNow is a better choice due to its wide website support. When downloading Vimeo videos, it allows you to download them as MP4 in 1080p, 720p, and more. If you are looking for a Vimeo HD downloader, it is a viable option. Therefore, when you need a Vimeo downloader online, it is also a great choice.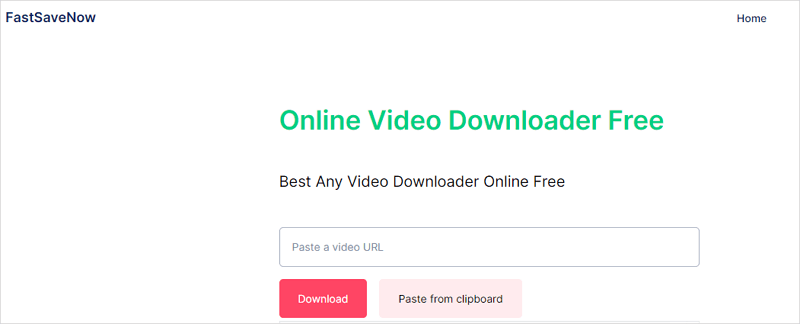 Simple Vimeo Video Downloader Online: TubeRipper
Regarding Vimeo video downloads, TubeRipper can accomplish what the previously recommended tools can do. The reason I included TubeRipper in the list of recommendations is because, in addition to helping you download Vimeo videos online in high quality, it also works to easily extract audio from Vimeo videos. Apart from the most common MP3 format, it provides you with other audio format options such as M4A, FLAC, OGG, and WAV. Therefore, whether you want to download Vimeo videos to MP4 or convert Vimeo videos to M4A, TubeRipper can effortlessly assist you in achieving your desired results.
In a word, TubeRipper is an online Vimeo video downloader that is worth trying. With it, you can download Vimeo videos on PC or Mac without strain.

Fast Vimeo Online Downloader: SaveVideo
Compared to the previously recommended free online video downloaders, SaveVideo offers the simplest functionality, albeit with occasional redirects. However, you will appreciate its incredibly fast download speed. I have personally used these tools, and SaveVideo stands out as the fastest in terms of download speed, which is why I included it in the list of recommendations. If you value the download speed of an online Vimeo downloader, SaveVideo is the best choice for you. Although it lacks audio extraction options, it provides multiple resolution choices for video downloads, which should meet your requirements.

If you don't know how to download Vimeo videos not available for download, using any of the websites above will help.
Download Vimeo Video Online: 3-Step Guide
Although various online tools have different functionalities, the general steps to download Vimeo videos online are quite similar. Therefore, I'd like to show you the overall process. You can follow the steps below to download Vimeo videos on Mac, PC, or mobile device.
To download Vimeo video online:
Step 1. Copy the video URL from the Vimeo website.
Step 2. Visit the Vimeo downloader, paste the link, and click Download.
Step 3. Select the video format and quality you like to download it to your computer.
FAQs on Vimeo Downloader Online
When you download Vimeo videos online, you may also want to know:
How to download an MP4 video from Vimeo?
All these online Vimeo video downloader services provide the MP4 download options for a Vimeo link:
1. YouTube 4K Downloader
2. SaveTube
3. PasteDownload
4. SaveVideo
How to download Vimeo videos via Chrome?
You can use Vimeo downloader Chrome extensions to rip Vimeo videos via Chrome:
1. Video Downloader VeeVee
2. Vimeogo – Simple Vimeo Downloader
3. Video Downloader Professional
How to download Vimeo video for free?
Using a free online Vimeo downloader such as PasteDownoad enables you to do download a Vimeo video at no cost.
Wrapping Up
In addition to using online services, you can also save videos from Vimeo by utilizing Vimeo video download extensions (check Vimeo downloader Chrome extensions or Firefox Vimeo downloader add-ons) or desktop Vimeo video downloaders such as SurFast Video Downloader. The former is convenient but less stable, while the latter requires you to download software before using it. However, desktop downloaders offer better functionality, stability, and speed, making them the optimal long-term choice.