Quick Answer: SurFast Video Downloader is a stable and fast 1080p Twitter video downloader that will help you download Twitter videos in high quality with ease.
1080p, namely FHD, is a high-quality video resolution that enables you to watch video and enjoy a good viewing experience. Thus, when you download videos from the internet, you may prefer to choose 1080p as the target resolution. This is no exception when you need to download Twitter videos. If you are looking for a Twitter video downloader for 1080p video download, check the powerful Twitter video downloader below and use it to get your desired Twitter videos effortlessly.
Twitter Video Downloader 1080p: SurFast Video Downloader
SurFast Video Downloader is an all-inclusive video downloader for PC and Mac that allows you to download video from any website. That means you can use it to download online videos from various video sites and social networking sites, including Twitter, Facebook, YouTube, Dailymotion, Vimeo, and more.
Thus, When you need a Twitter video downloader for 1080p video downloads, it is a perfect fit. With a Twitter link, SurFast Video Downloader will help you to download the video from Twitter to your Mac or PC in MP4 format and selected video quality, including 1080p, 720p, and more. Therefore, you can download Twitter video in 1080p and convert Twitter to MP4 easily with it. Moreover, for other users who want an HD Twitter video downloader, it is also a preferred choice.
Although there are many online 1080p Twitter video downloader services, a Twitter video downloader app is always the optimal choice. Specifically, a 1080p Twitter video downloader app like SurFast Video Downloader generally is:
More powerful: Desktop software holds an advantage in terms of functionality as it can offer a wider range of features. While most online tools only support a single website, desktop software typically supports thousands of websites. That's why you can utilize Surfast Video Downloader to not only download Twitter videos but also download videos from over 1000 other sites.
More stable: If you have experience using online tools or browser extensions, you may have noticed their unstable performance. They are prone to being disabled by browsers or encountering issues where they can't download videos from Twitter anymore. However, a desktop Twitter video downloader that supports 1080p resolution won't have these problems. Therefore, if you prefer a stable tool to download Twitter videos in 1080p, using Surfast Video Downloader is a better choice.
More reliable: If you use an online 1080p Twitter video downloader, you will undoubtedly encounter some advertisements and redirects, some of which may even disrupt your user experience, requiring manual closure. However, with SurFast Video Downloader, you won't have to worry about that. It offers a clean and smooth process for downloading videos from Twitter in 1080p resolution, ensuring a hassle-free experience.
Therefore, based on the aforementioned points, SurFast Video Downloader is the highly recommended tool to download Twitter videos on PC and Mac. Don't hesitate to give it a try and experience a seamless downloading process.
Name
SurFast Video Downloader
File Size
Windows Version: 172; Mac Version: 182; Installer: 1.7M
Features
Download online videos and audio,
Download videos with thumbnails
Convert local videos to MP3
Price
Start from $15.95
Tech Spec
Windows 7 and later; macOS 10.15 and later
3-Step: Download Twitter Video in 1080p
After you download and install the 1080p Twitter video downloader on your computer, now it's several clicks away from getting your favorite videos from Twitter.
To download a Twitter video in 1080p:
Step 1. Paste the Twitter video URL to SurFast Video Downloader and then click Confirm.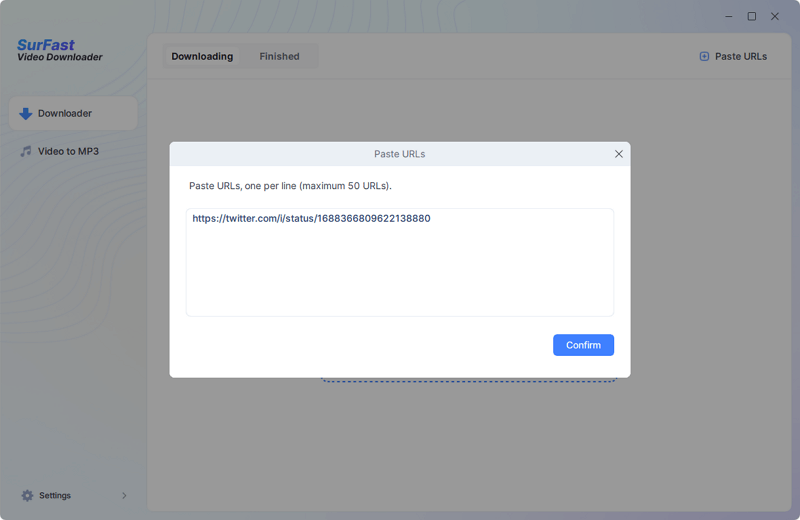 Step 2. Select the 1080p option and click Download.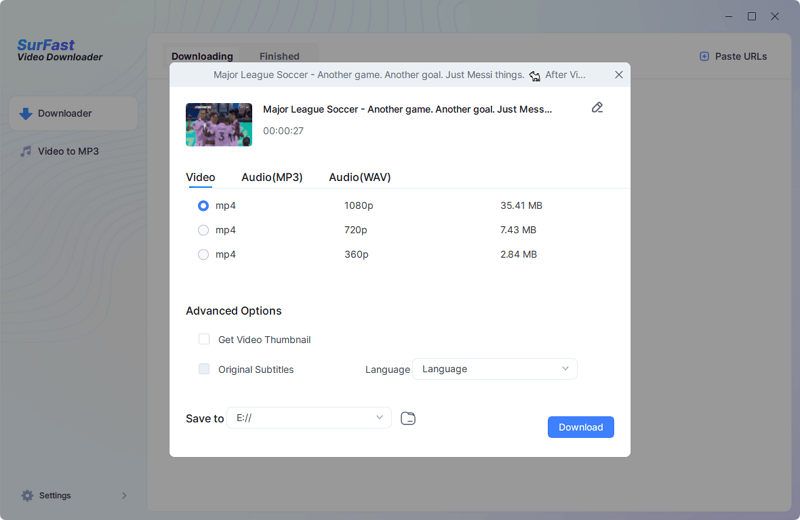 Step 3. Wait for the Twitter video download process to finish.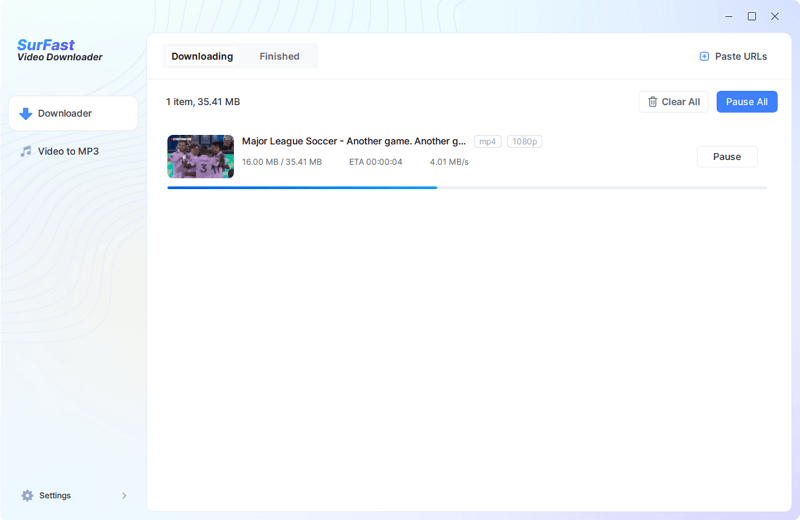 5 Online 1080p Twitter Video Download Service Recommendations
While online tools do have some drawbacks, it cannot be denied that they are incredibly convenient to use and often available for free. What's more, if you are going to download Twitter videos on iPhone or Android, they are the most effective solutions. Therefore, in case you need them, I'd like to present you with a list of online 1080p Twitter video downloader sites that are truly effective.
TWSaver Twitter Video Downloader: https://twsaver.com/
SSSTwitter: https://ssstwitter.com/
TwitSave: https://twitsave.com/
SaveTwitter: https://savetwitter.net/en
Twitter Video Downloader: https://twittervideodownloader.com/
Wrapping Up
If you are looking for a Twitter video downloader for 1080p video downloads that is compatible with your Windows or macOS computer, using SurFast Video Downloader is advisable. While if you want a Twitter video downloader for iPhone or Android, use one of the online Twitter video downloader sites mentioned above instead.