Quick Answer:
A desktop tool like SurFast Video Downloader has the ability to download multiple Twitter videos at once.
Although there are various types of Twitter Video Downloader tools available, including apps, online services, and browser extensions, very few of them are capable of helping you to download multiple Twitter videos at once. Online Twitter video downloaders and browser extensions typically work for downloading one video from Twitter at a time, which can be time-consuming if you have the need to download multiple videos from Twitter.
Luckily, some desktop Twitter video downloader is powerful enough and enable you to perform bulk downloads using URL. Check the Twitter multiple-video downloader below and follow the step-by-step guide to learn how to download multiple Twitter videos with it.
Twitter Multiple Video Downloader: SurFast Video Downloader
SurFast Video Downloader is a video downloader for Windows & macOS that supports over 1000 sites, including Twitter. Most importantly, it is helpful to download multiple videos at once. Whether you want to download a YouTube playlist or download multiple Twitter videos, it will do you a favor.
When you download multiple Twitter videos with this multi video downloader, it will convert all Twitter videos to MP4 at once and allow you to select the target video quality (depending on the video quality available). Whether you want to download Twitter videos in 1080p or 720p, this Twitter multiple video downloader will help.
As mentioned above, since it also supports other sites, including YouTube, Facebook, Vimeo, Dailymotion, and more, you can use it to download multiple YouTube videos at once when needed.
In addition to Twitter video download, SurFast Video Downloader has a Video to MP3 feature. If you want to convert your downloaded Twitter videos to MP3, you can use this function to extract audio from Twitter videos without effort.
In a word, SurFast Video Downloader will not only satisfy your need when you are looking for a Twitter multi video downloader but also be a preferred choice when you want to download videos from the internet. Don't hesitate to give it a try.
3 Steps to Download Multiple Twitter Videos At Once
With SurFast Video Downloader installed on your computer, now you are three steps away from getting your favorite Twiiter videos.
To download multiple Twitter videos in bulk:
Step 1. Paste the Twitter video URL to SurFast Video Downloader and then click Confirm.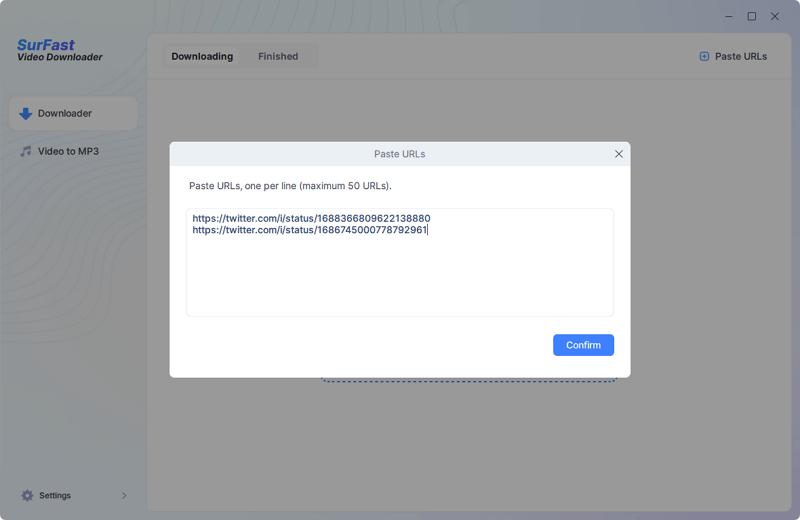 Step 2. Select the 720p option and click Download.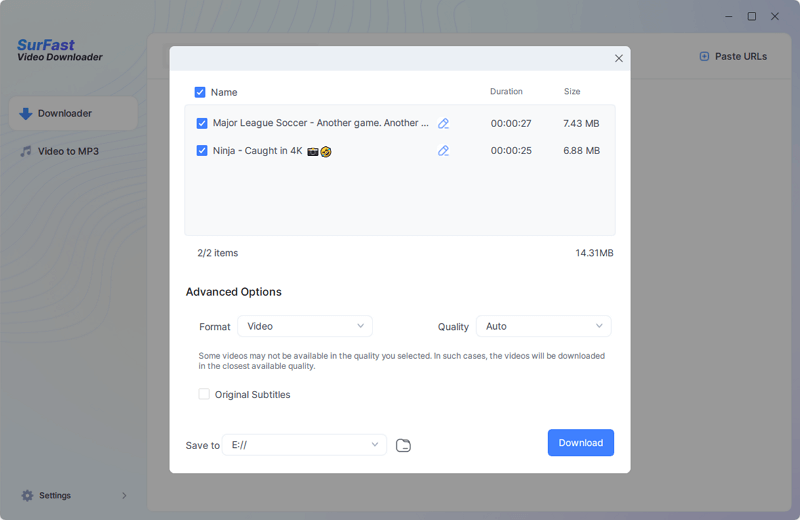 Step 3. Wait for the Twitter video download process to finish.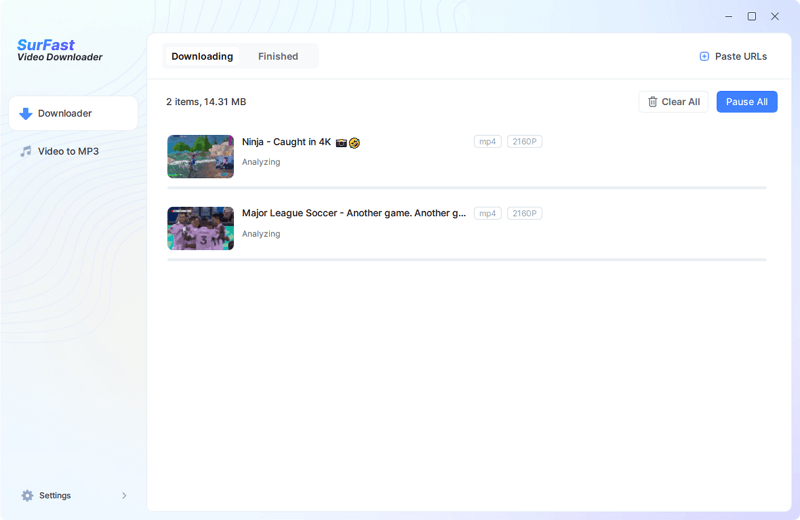 Wrapping Up
Now you know how to download multiple videos from Twitter. Even if you want to mass download videos from other sites, you can still use the multiple video downloader to get it done. When you download Twitter videos in bulk, make sure you have a stable and fast network so that you can save videos from Twitter to your device at a fast speed.