Quick Answer:
Here outline 3 ways for you to download YouTube videos on Android without YouTube Premium.

SurFast Video Downloader: Download multiple YouTube videos at one time on PC and move them to your Android phone connected to the PC fast
TubeMate: An Android app that mimics YouTube and allows you to download videos from YouTube on Android as well as save YouTube videos in MP3
ssyoutube: A website that offers free downloading of YouTube videos, which contains ads on the other hand.
YouTube is the most popular free video-sharing platform that allows people to upload, watch, and share videos. Ad is one way for YouTube to generate revenue. While ads can be disturbing in most cases. Thus here comes YouTube Premium which enables people to watch videos on their phones without being interrupted by ads and even without a network.
While if you want to keep YouTube videos permanently on your Android phone or iPhone, you can't rely on YouTube Premium. In this guide, we will walk you through what is YouTube Premium and how to download YouTube videos on Android with YouTube Premium.
Why Download YouTube Videos on Android Without Premium
While the offline playback feature of YouTube Premium is the easiest way to offer offline views of YouTube videos on Android, it has limitations. Downloaded videos may become inaccessible within 30 days if you uninstall and reinstall the YouTube app, or if the uploader deletes the video or changes its availability settings. To access certain YouTube videos permanently, save them to your Android phone using other methods. Learn multiple ways to download YouTube videos to Android without YouTube Premium below.
How to Download YouTube Videos on Android Without Premium
In this section, you will discover multiple options for downloading YouTube videos on Android, including both free and paid alternatives to YouTube Premium. We will introduce each method in detail, so you can choose the method that suits your needs best.
1. Download YouTube Videos to Android Using SurFast Video Downloader
If you are looking for the most efficient and effortless video downloading solutions on Android, SurFast Video Downloader is one of your best choices. Though the tool is available on Windows, you can directly move the downloaded YouTube videos to your Android phone from the computer using a USB cable.
SurFast Video Downloader is an excellent tool for saving content from YouTube. It provides the option to download YouTube videos, YouTube music, and movies uploaded by users. It also provides the ability to convert YouTube videos to MP4 or extract audio in MP3 format. Furthermore, the playlist downloading feature allows you to grab all videos in a playlist, including subtitles and thumbnails, making it perfect for you to download and repost old YouTube videos on other platforms such as TikTok and Instagram.
On top of that, the batch-downloading feature is truly amazing, which allows you to save 50 videos at most for once. You will definitely like it if you would like to download a series of videos to your device to enjoy offline viewing.
Step 1. Install SurFast Video Downloader on your computer. Connect your Android to the computer via a USB cable and make sure it shows up in the File Explorer.
Step 2. Open the YouTube video in your browser. Copy and paste the video URL into SurFast Video Downloader. Click "Download."
Step 3. In the download window, the best quality is selected by default. Confirm the video quality/format and save path, then click "Download" to start downloading.
Step 4. After the downloading completes, move the download YouTube videos to your Android device for offline viewing.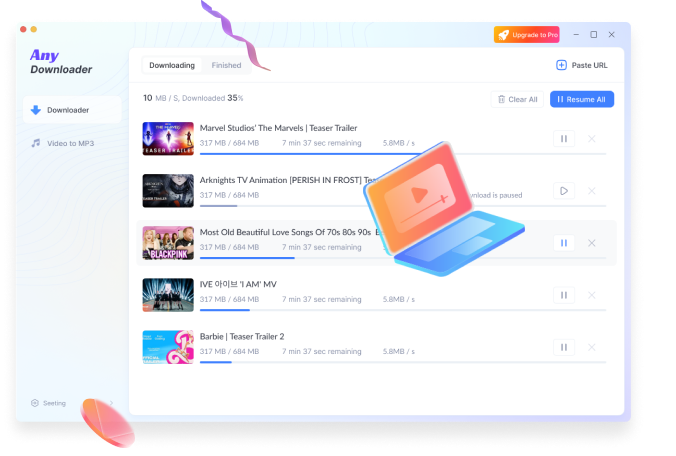 2. Download Videos to Android from YouTube with TubeMate
The TubeMate is an Android app that is used by users to download YouTube videos on Android. Google Play Store doesn't allow video downloader apps to be listed for download due the copyright protection reasons. While unlike iPhone, it is easy to install a third-party app outside of Google Play Store. Download TubeMate from the link below and install it on your Android phone.
Download link:
https://www.apkmirror.com/apk/devian-studio/tubemate-youtube-downloader-v3-3-4-9-17-android-apk-download/
Let's see how to download videos from YouTube on Android with TubeMate without YouTube Premium.
Step 1. Install TubeMate on your Android. You may need to enable the option to allow app installations from unknown sources in the Settings app.
Step 2. Open TubeMate your Android phone and grant the permissions it requested.
Step 3. The app is like another copy of YouTube. Browse and find the video you want to save to your Android phone.
Step 4. Tap the download icon you see on the screen. In the popup, select the video quality and format you want, and tap the download option again. Then the downloading will start.
Step 5. You can tap the download icon at the bottom of the app page to locate the video you've just downloaded.
TubeMate can not only save YouTube videos but also convert YouTube to MP3. You can select "MP3" as the download format in Step 4 if you need.
3. Save YouTube Videos on Android via Websites
Online YouTube downloaders are widely used by people to download videos from YouTube on Windows, Mac, Windows, iPhone, and Android. Though containing ads on the page and downloading process, the online website makes it easy for you to download YouTube videos for free on any device. There are numerous online video downloaders for your to select from.
Check out how to use websites to download YouTube videos on Android.
Step 1. Open ssyoutube or its alternatives from a browser on your Android phone.
Step 2. Find the YouTube video you want to save. Copy and paste the URL into the online YouTube downloader.
Step 3. The tool will start parsing the link and provide you with download options later. Tap on the download button next to the quality you prefer.
Step 4. Close the ad page and save the video files on your Android phone.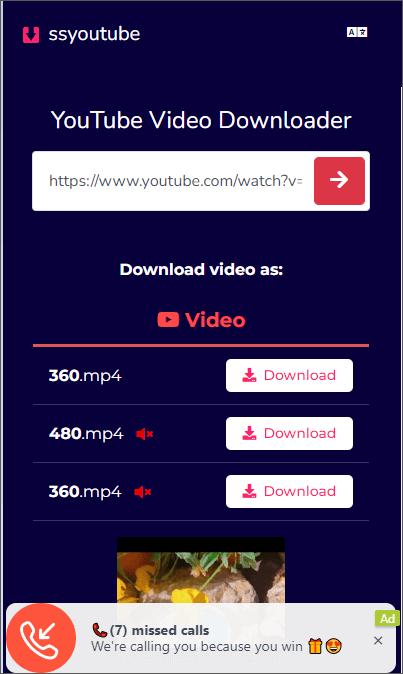 Extra Tip: What Is YouTube Premium
YouTube Premium is a subscription service offered by YouTube that provides users with more features and a better watching experience. See detailed features below.
Watch YouTube videos or listen to YouTube Music with ads
Play videos or songs in the background when using other apps or screen is locked
Save videos on YouTube for offline watching within 30 days
Listen to YouTube Music without interruption
The services provided by YouTube Premium are attractive to most people, especially the feature to cache videos locally for playback without the internet for 30 days. It is the easiest way for people to download YouTube videos on Android.
The Final Words
The above are three common methods for downloading YouTube videos on Android when you don't have a YouTube Premium subscription.
FAQs on How to Download YouTube Videos on Android Without YouTube Premium
1. Can I download YouTube videos in 4K to an Android phone?
It depends. The quality you can download from YouTube depends on its original quality. If the video is in 4K resolution, you can get it in 4K with SurFast Video Downloader.
2. Can I find the downloaded videos in my Files app on Android if I use YouTube Premium?
No. The video you download with YouTube Premium won't be found as individual video files in the Files app. YouTube processes downloaded videos in a way that can only be read and accessed by YouTube. So you can only view them inside the YouTube app.
3. Is it safe to install YouTube downloader apps on Android?
Installing apps outside of app stores can be risky at times. Thus it is crucial for you to know the source of the YouTube video downloader app you will install. There are some well-known apk download websites like APKMirror, which only list safe apk files. However, it is always better to be cautious and avoid installing YouTube video downloader apps from unknown sources.