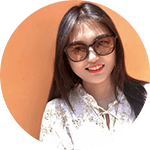 Charlene Chen
Charlene is an editor with 8 years of experience in the software industry. She is dedicated to solving problems through easy-to-follow steps and sharing IT knowledge in simple words, making technology accessible to everyone.
To the reader
"Hello, thank you for taking the time to read my articles and visiting my profile page. I appreciate your interest in getting to know me better and exploring more of my work. If you find my articles helpful, I would be grateful if you could share them on your social network to help spread the word."
Experience
Charlene is a tech enthusiast with a passion for simplifying technology for users. Before joining Nabla Mind, she gained experience helping people troubleshoot issues on PCs and smartphones, as well as writing how-to tutorials in iOS-related topics and multimedia fields. Her tutorials are based on her own real-world experience and feedback that have been proven to be effective.
Education
Charlene, who studied English translation at university, is known for her clear and concise writing style. While at university, she actively participated in various competitions, and upon graduation, she decided to pursue a career in the IT and internet industry.
Life
Charlene keeps up with the latest trends in the tech industry and enjoys experimenting with new technologies both in her personal life and professional work. Additionally, she has a keen interest in capturing the beauty of the world through photography and videography using her iPhone.