Quick Answer:
If you want to download YouTube videos in HD, you can try SurFast Video Downloader and YouTueb4KDownloader, and YTBvideoly YouTube Video Downloader.

Steps to download YouTube videos in HD.
1. Install an HD YouTube video downloader on your PC.
2. Copy the YouTube video URL and paste it into the YouTube downloader.
3. Select HD (720p or 1080p) as the video quality and click Download to save the video.
HD, with a resolution of 720p or 1080p, is still a type of high-quality video that is popular on YouTube, even with the appearance of 4K and 8K videos. HD videos provide people with a sharp and clear viewing to views. If you want to save YouTube videos in HD quality, check out the methods we outlined in the blog to get this done fast and efficiently.
How to Download YouTube Videos in HD Fast
As HD resolution can be video in 720p or 1080p, you need a 720p or 1080p video downloader based on your demands. If a video download can download a higher quality than 1080p, it will definitely download YouTube videos in 1080p and 720p. We have tried our best to find some high-quality YouTube video downloader that allows you to save videos in more qualities. Check out the following content to find the best HD YouTube video downloader you would like to try.
The YouTube video downloaders below are carefully selected from more than 10 HD YouTube video downloaders we tested.
1. SurFast Video Downloader
Supported resolutions: from 128p to 8K
SurFast Video Downloader is a 4K and 8K video downloader that enables people to download high-quality videos from YouTube. With it, downloading YouTube videos in HD quality will be a no-brainer for everyone, both in 1080p and 720p qualities. To download YouTube videos in HD, all you need to do is to add the video URL and select the format as 720p or 1080p, then Surfast Video Downloader will help you grab HD videos from YouTube fast. SurFast Video Downloader also works as an online video converter that can convert YouTube to MP3 high quality or WAV.
Feature list of SurFast Video Downloader
Download videos from websites in HD, 4K, and 8K
Download songs from music sites like SoundCloud and Bandcamp
Batch download videos and audio from internet
Convert videos to MP3/WAV from more than 1,000 websites
Rip audio from videos in MP3
Extract subtitles and thumbails from certain websites
Now check the step-by-step guide for your reference.
Step 1. Paste the video link from the main interface. Then wait for SurFast Video Downloader to parse the video automatically.
Step 2. Select the video format (MP4) and video quality (720p, 1080p, or above) and then click Download.
Step 3. Wait for the video download process to finish and then go to the selected folder to check the video.
2. YouTube4KDowloader
Supported resolutions: 144p and 8K
YouTube4KDownloader is a free high-quality YouTube video downloader online. The supported resolutions range from 144p to 8k, which cover 1720p and 1080p in various formats including MP4, Webm, mkv, and MPEG. Also, it downloads YouTube videos into audio files in formats including mp3 and m4a. Thus you can use it to download both videos and songs from YouTube in your desired quality and format. It is hardly to find an online YouTube downloader that save YouTube videos in 8K quality. This has been a catching feature for me. Now let's show you how to download HD videos from YouTube using YouTube4KDownloader.
Step 1. Go the online HD YouTube video downloader from here.
Website: https://youtube4kdownloader.com/en73/
Step 2. Go to YouTube and get the URL of your favorite videos. Paste it into the box of the downloader and it will start analyzing the video URL automatically.
Step 3. Select the HD quality in the desired format, then click the download button beside it. Confirm your action in the prompt.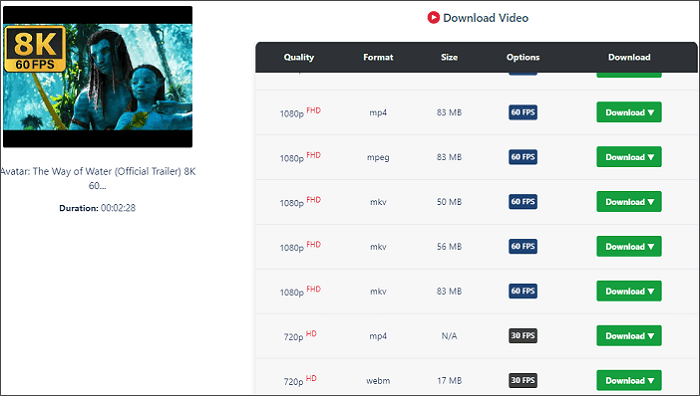 The downloading will start now. After it completes, you can check the downloaded HD YouTube video on your device.
3. YTBvideoly YouTube Video Downloader
Supported resolutions: 720p and 1080p
YTBvideoly YouTube Video Downloader is an online and free video downloader that saves YouTube videos in HD. The free HD YouTube video downloader allows you to download YouTube videos, audio, and live stream from your favorite YouTube channels. With it, you can always download YouTube videos in 1080p or 720p, but no higher quality. Besides, YTBvideoly makes it possible for you to convert YouTube to MP3.
The tool is free to use and says it is ad-free, but it is bothersome to open a new window, which is not necessary for most people. While YTBvideoly has been a good online YouTube video downloader that can be used to grab YouTube videos in HD.
Step 1. Open the YTBvideoly site on your browser either on a computer, tablet, or mobile phone.
https://www.ytbvideoly.com/d12-home/
Step 2. Open YouTube and find the video you would like to download. Copy the video URL and paste it into the box of YTBvideoly. Click Download.
Step 3. After the URL is analyzed, click Convert next to the video quality you want to save. Wait for a while until the text becomes Download.
Step 4. Click Download and you will get a new tab with a prompt. Confirm the download in the prompt to save the video from YouTube in HD to your device.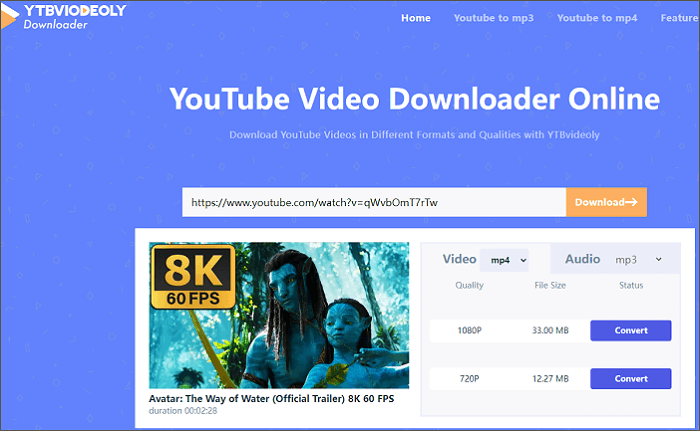 Conclusion
The three HD YouTube video downloaders, SurFast Video Downloader, YouTube4KDownlaoder, and YTBvideoly, are our recommendations when you want to save HD videos from YouTube, especially the first two. The first two YouTube video downloader offers a better downloading experience and supports capturing YouTube videos in higher quality, like 4K and 8K.
FAQs on Download YouTube Videos HD
1. Can I use an HD YouTube downloader to download 4K videos?
It depends. There are many HD YouTube video downloaders. Some support capturing videos from YouTube in 4K, while some do not. SurFast Video Downloader and YouTube4KDowloader can be used to save 4K videos from YouTube.
2. Can I use a Chrome extension to download YouTube videos in 4K?
No. You can't. Chrome Web Store does not allow extensions that download videos from YouTube any longer. Thus you can't find any results when you search with related keywords. You will find some tools that ask you to download an extension with an irrelevant name. I have tried several such extensions, unfortunately, without success.
3. Is there any significant difference between 4K and 1080p YouTube videos?
Theoretically, their difference is significant. 4K videos have a much higher resolution than 1080p videos. While the screen is a key factor to decide whether you can notice the difference. On a small screen, the difference will not be noticeable as it is on large screens. To fully enjoy 4K videos, you'd better use a large screen.