Quick Answer:
You can download Twitter video online for free using the following online Twitter video downloader sites:

1. TwitterVid
2. TwitterVideoDownloader
3. SSSTwitter
4. SaveTwitter
5. DownloadTwitterVideo
While online tools may have advertisements, redirections, and potentially risky elements, it cannot be denied that their convenience is highly appealing. Besides, they are generally compatible with both desktop and mobile, allowing you to download videos from Twitter to PC, Mac, iPhone, and Android. That's probably why so many people want to download Twitter video online. With that in mind, I will now list several tested and reliable online Twitter video downloader websites that will assist you in successfully saving Twitter videos to your computer or mobile device.
Download Twitter Video Online via TwitterVid
Tool: Clean Online Twitter Video Downloader – TwitterVid
Website: TwitterVid.com
Among the online services for downloading Twitter videos that I have used, TwitterVid provides the best user experience. Therefore, if you value user experience, this online Twitter video downloader is the ideal choice for you. It has a clean interface without any advertisements, and there are no unexpected redirects during the process. With TwitterVid, you can effortlessly convert Twitter to MP4 and download Twitter videos in 1080p, 720p, and more. Moreover, it also supports downloading Twitter GIFs. Specifically, you can freely use TwitterVid to convert Twitter GIFs to MP4 using this tool.
It's worth mentioning that this Twitter MP4 downloader also provides browser extensions for Chrome and Firefox. If you want to download Twitter videos via Chrome, you can try its browser extension instead.
To download Twitter video online via TwitterVid:
Step 1. Paste the Twitter URL to the link field of TwitterVid and click Load Videos.
Step 2. Check the download options and choose the video quality you need.
Step 3. Click Download MP4 to save the Twitter video to your device.

TwitterVid is a preferred choice whether you are going to download Twitter video on iPhone or downoad Twitter videos to Android.
Download Twitter Videos Online via TwitterVideoDownloader
Tool: Easy Twitter Online Video Download Service – TwitterVideoDownloader
Website: TwitterVideoDownloader.com
TwitterVideoDownloader is a relatively clean online platform for downloading Twitter videos and GIFs. It also provides options to download videos in FHD (Full High Definition), HD (High Definition), and other formats. Therefore, if you are in need of an FHD or HD Twitter video downloader, it remains a viable choice. The reason it is referred to as relatively clean is due to the presence of some advertisements on its webpage. However, these ads do not interfere with your video downloads and have a minimal impact, making it a user-friendly website.
To save Twitter videos via TwitterVideoDownloader:
Step 1. Visit TwitterVideoDownloader.com using a browser.
Step 2. Paste the link and click Download.
Step 3. Select a preferred video quality to download.
Step 4. While the video is playing, click the More button (three dots) and choose Download.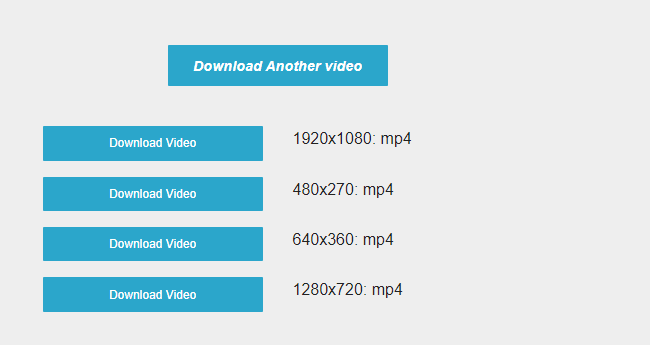 Download Video from Twitter Online via SSSTwitter
Tool: Powerful Online Twitter Video Download Website – SSSTwitter
Website: SSSTwitter.com
When it comes to downloading Twitter videos, there is no functional difference between SSSTwitter and TwitterVid. However, in terms of user experience, SSSTwitter falls slightly behind due to the presence of advertisements and pop-ups. But SSSTwitter offers a feature that TwitterVid lacks, which is converting Twitter videos to MP3. If you want to convert Twitter to MP4 as well as MP4, this online Twitter video downloader will be helpful. Therefore, you can choose the tool that best suits your downloading needs accordingly.
To download video from Twitter online:
Step 1. Copy the tweet link from Twitter.
Step 2. Open a browser to visit SSSTwitter.com, paste the link, and then click Download.
Step 3. Select the version you want to download and click its Download button.
Step 4. Close the popup to start the Twitter video download.

Download Twitter Video Online for Free with SaveTwitter
Tool: All-Inclusive Twitter Video Downloader Website – SaveTwitter
Website: SaveTwitter.net
If you're looking for an all-inclusive Twitter online video download website, SaveTwitter may suit you best. It offers the following features:
Saving videos from Twitter
Downloading Twitter GIFs
Converting Twitter to MP3
Downloading Twitter thumbnails
In terms of functionality, SaveTwitter is nearly perfect. However, it is stuffed with ads, and some pop-ups require manual closure before you can continue downloading videos or audio. If you don't mind these aspects, it is indeed a fully-featured online Twitter video downloader.
To download a Twitter video online:
Step 1. Paste the Twitter link to SaveTwitter and click Download.
Step 2. Click Download MP4 (video resolution) according to your needs.
Step 3. Close the prompt to start downloading the video from Twitter immediately.

Perform Twitter Video Download Online via Download Twitter Video
Tool: Direct Online Twitter Video Downloader – Download Twitter Video
Website: DownloadTwitterVideo.com
Compared to the previously mentioned online Twitter video downloaders, the website Download Twitter Video offers a more limited range of functionalities. It only provides two download options: Download video in normal quality and Download video in HD quality. This makes the downloading process straightforward. However, the website contains numerous advertisements, and upon clicking the download button, it redirects you to another page. If you are concerned about these aspects, it is recommended to use the previously recommended solutions.
To save a Twitter video via the Download Twitter Video website:
Step 1. Copy the video URL from Twitter.
Step 2. Visit DownloadTwitterVid.com using a browser.
Step 3. Paste the video URL in the link field and click Download MP4 or Download HD MP4 according to your needs.
Step 4. Close the redirected page to start the online Twitter video download.

Extra Tip: Twitter Video Downloader App for PC & Mac
I have used several of the top-ranked online Twitter video downloaders, but some of them were unable to download Twitter videos for unknown reasons. Considering the instability of online tools, I think it is necessary to prepare a backup option for you – SurFast Video Downloader. This is a desktop application available for both PC and Mac.
Desktop tools have a notable advantage in terms of stability, faster speed, and more powerful functionalities, as they allow you to download multiple Twitter videos at once and download videos from any website. Therefore, if the online options are unable to assist you, you can rely on SurFast Video Downloader to obtain the Twitter videos you desire.
To download Twitter videos:
Step 1. Click Paste URLs, paste the Twitter video URL, then click Confirm.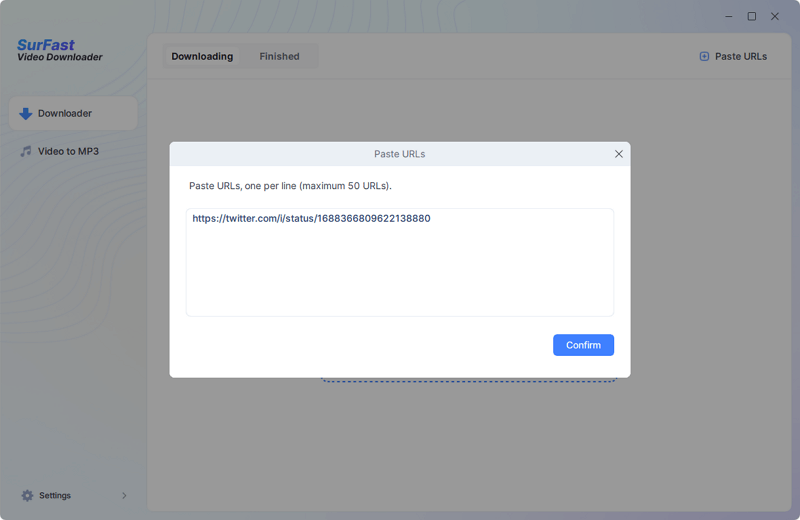 Step 2. Select the video format and resolution, then click Download.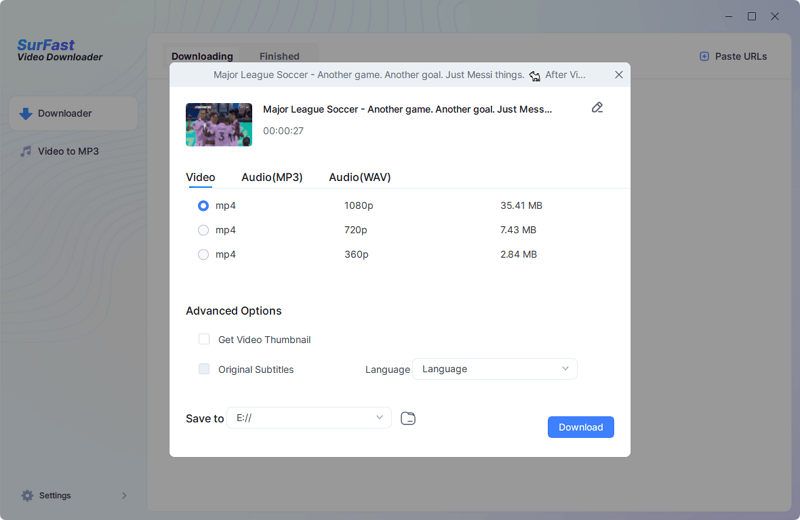 Step 3. Wait for the Twitter video download process to finish.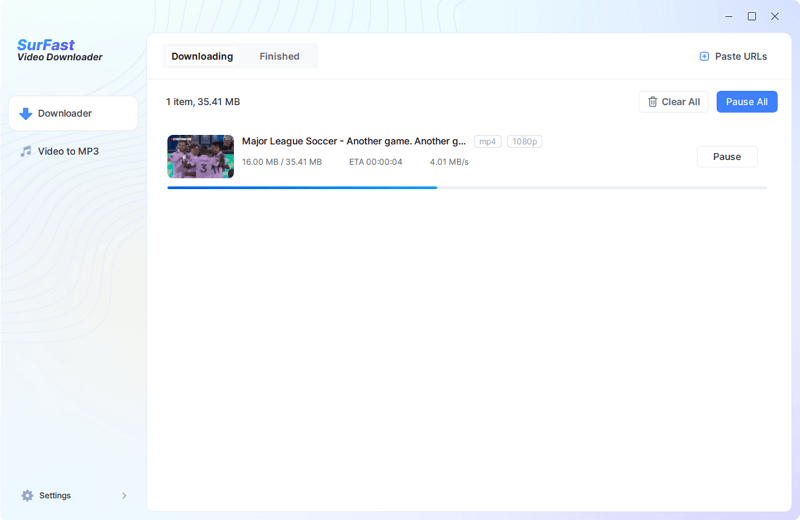 Wrapping Up
Downloading videos from Twitter online is a simple task. If you intend to download Twitter videos on your Mac or PC, there are browser extensions available to assist you. However, it is important to note that there are only a few Twitter video download extensions that actually work. Consequently, it may require some time and effort to find the one that genuinely proves helpful.