Quick Answer:
You can download streaming videos from websites using a stream video downloader like SurFast Video Downloader, JDownloader, and PasteDownload. Additionally, you can choose to capture streaming videos by recording.
Although it is convenient to watch streaming videos online, there are situations when you may not have a network connection and would like to have videos available for offline viewing. This is likely why you are interested in learning how to download streaming videos from any website. If that is your intention, continue reading to discover four practical methods for downloading videos from any website.
Download Video from Any Website on PC & Mac
Tool: SurFast Video Downloader
It's easy to download streaming videos on PC or Mac, as long as you find the proper tool to apply. To download videos from the internet freely and successfully, it's advisable to try the versatile video downloader for 1,000 sites, SurFast Video Downloader.
With this stream video downloader installed on your computer, you will be able to download streaming videos from any website by link. Whether you want to download YouTube videos or save Instagram reels, it will do you a favor.
To save video from any website:
Step 1. Launch SurFast Video Downloader and paste the video link. Then wait for the program to load the video automatically.
Step 2. Check the download option you prefer and then click Download to start downloading the video to your computer.
Step 3. Wait for the video download process to finish.
Download Streaming Videos from Websites for Free
Tool: JDownloader
If you want a free solution to download streaming videos from any website, the recommended choice for you is JDownloader. It is a free, open-source, and cross-platform download management tool that enables you to download online videos from various websites for free. YouTube, Vimeo, Facebook, Twitter, and more are all supported by JDownloader. If you are going to save streaming videos from these sites, you can give it a try.
To download a streaming video from any website for free:
Step 1. Copy the video URL.
Step 2. Go to JDownloader > Add New Links, paste the video link, and then click Continue.
Step 3. Click LinkGrabber and expand the loaded folder.
Step 4. Right-click the video file and choose Start Downloads.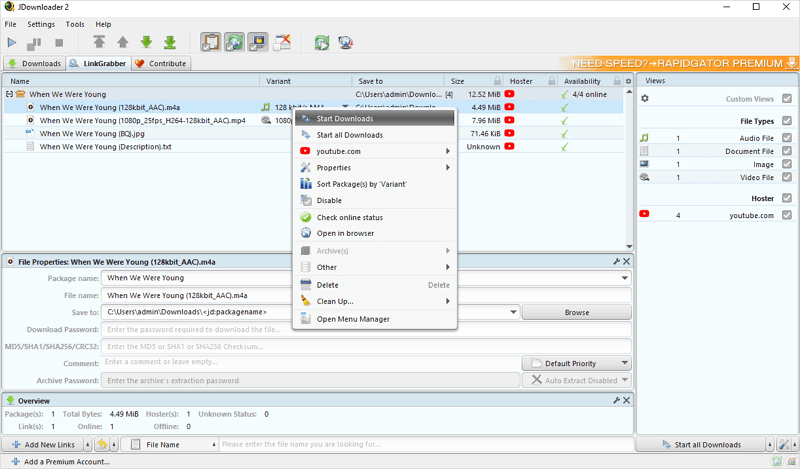 Download Streaming Video from Any Website Online
Tool: PasteDownload
Not all of you may be willing to use a video downloader app for assistance. That's why some of you prefer to download streaming videos online. In such cases, you can rely on PasteDownload for help. This online video downloader is capable of downloading streaming videos from various websites, including Twitter, Tumblr, TED, TikTok, and more, making it possible for you to download any video from any website.
To download streaming videos from any website online:
Step 1. Get the video link you want to download.
Step 2. Open a browser to visit PasteDownload.com.
Step 3. Paste the video URL into the link field and click Download.
Step 4. Click Download next to the option you like.
Step 5. When the video is playing, click the More option and choose Download to save the video to your device.
PasteDownload is available for both computer and mobile. If you want to download a streaming video on your iPhone or Android phone, you can also use it to get your desired items.

Capture Streaming Video by Recording
Tool: SurFlex Screen Recorder
There may be instances where you encounter difficulties in downloading videos from websites, even with a professional video downloader. In such situations, you require an alternative method: recording streaming video. By recording the video, you can download any video from any website, regardless of whether it permits direct downloads or not.
To capture streaming videos through recording, you can rely on the dependable screen recorder, SurFlex Screen Recorder. It offers various recording modes, allowing you to capture any desired content.
To record a streaming video:
Step 1. Go to Settings to set up your recording preferences, and then choose the Record Screen mode.

Step 2. Choose to record the Full Screen or a Selected Region and then select the target screen, window, app, or a selected portion.

Step 3. Enable audio recording and then choose the option you need. Then click REC to start recording the live stream on your Mac.
Step 4. When you are done, click the Stop icon to stop recording.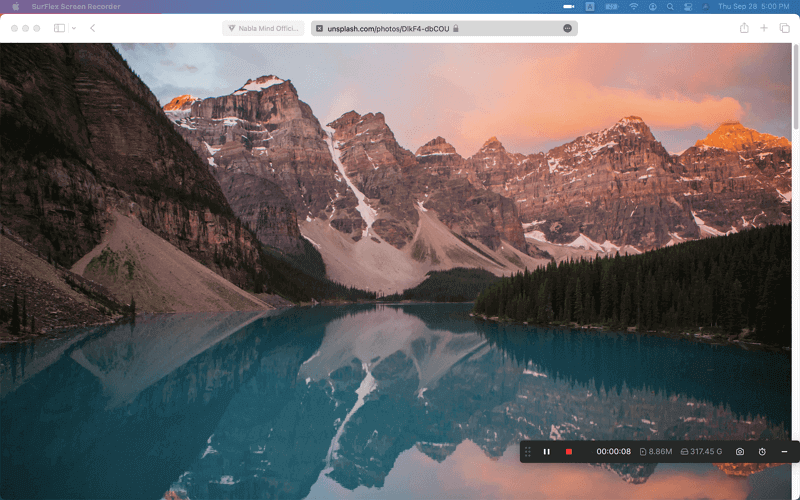 Wrapping Up
Typically, using a professional video downloader is the recommended method to successfully save streaming videos. However, if none of the video downloaders work, you have the option to record streaming videos instead. This approach enables you to capture any video you desire from the internet.