Quick Answer:
You can download YouTube playlists to your laptop easily using SurFast Video Downloader or YouTubePlaylist.cc.
Downloading YouTube playlists is generally easier on a computer compared to a mobile device, mainly due to the availability of more functional tools. If you are looking to save YouTube playlists for offline viewing but are unsure about which tool to use, you can refer to this guide.
It will provide you with step-by-step instructions on how to download YouTube playlist in laptop running Windows 10, Windows 11, or other compatible operating systems, aiming to help you get your wanted videos or audio without any hassle.
How to Download YouTube Playlist in Laptop on Windows 11 & 11
Regardless of the Windows version you are using, whether it's the latest Windows 11 or an earlier version like Windows 7, you can utilize the fast video downloader for PC, SurFast Video Downloader, to successfully download a YouTube playlist to your laptop or PC.
This YouTube playlist downloader for PC offers the capability to download YouTube playlists in formats such as MP4, MP3, WebM, WAV, and more. It also provides the flexibility to customize the video or audio quality according to your preferences, ensuring that you obtain your favorite video or audio files in the desired format.
Whether you want to download a full YouTube playlist to MP3 or convert all the videos from a YouTube playlist to MP4, SurFast Video Downloader is an excellent tool to consider. Don't hesitate to give it a try and explore its capabilities.
To download YouTube playlist in laptop on Windows 11:
Step 1. Copy the URL of a playlist from YouTube and then paste it to SurFast Video Downloader.
Step 2. Wait for the program to parse the URL. Then set the output settings and click Download.
Step 3. Wait for SurFast Video Downloader to download the YouTube playlist, then go to the selected folder to check the items.
As you can see, you can download a YouTube playlist at once. You can also download multiple YouTube videos in bulk by copying all links to this tool.
How to Download YouTube Playlist in Laptop for Free
YouTube playlist download is typically a paid feature for most YouTube playlist downloaders. As a result, it can be challenging to find a completely free tool that allows you to download YouTube playlists on a laptop without any cost.
However, you can opt for a YouTube video downloader that offers more free quotas, such as YouTubePlaylist.cc. This website helps to download YouTube playlist online. Importantly, the free version allows you to download up to 15 videos per day. If the number of videos you want to download does not exceed this limit, you can successfully download a YouTube playlist on your laptop for free using this tool.
Step 1. Visit YouTubePlaylist.cc and sign in.
Step 2. Paste the YouTube playlist link and wait for the site to load the items.
Step 3. Set up the output options.
Step 4. Select the items you want to download and click Download All.
Step 5. Click Download ZIP and wait for the download process to finish.
Step 6. Go to the Downloads folder on your computer and unzip the file to check the videos.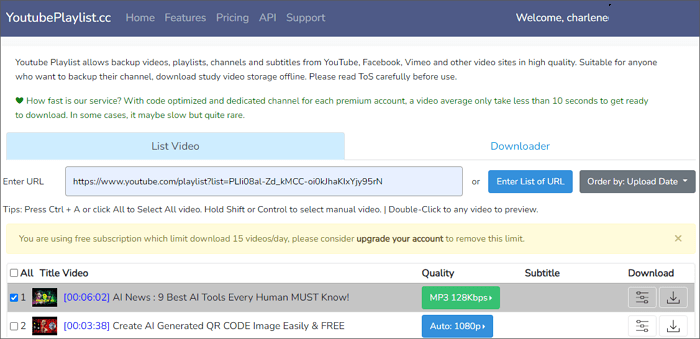 Wrapping Up
Now that you know how to download YouTube videos in laptop in Windows 10 and more, whether through a paid solution or a free method, it's time to specify your needs and choose a preferred solution to apply. We hope that you will be able to successfully obtain the desired videos or audio files.