Quick Answer:
You can download Instagram video in HD using:

1. SaveIG
2. PasteDowlnoad
3. SurFast Video Downloader
If you want to download Instagram videos in HD but are unsure of how to do it, you can use one of the HD Instagram video downloader tools introduced here. This will enable you to easily download Instagram videos in HD or higher quality. Once downloaded, you can watch the videos in high definition and enjoy an enhanced viewing experience.
Download Instagram Video in HD Online
Tool: SaveIG HD Instagram Video Downloader
Applies to: PC, tablet, iPhone, Android
Given the convenience of online services, you may prefer to download Instagram videos online. In fact, an online Instagram HD video downloader has advantages such as being compatible with both desktop and mobile devices, allowing you to freely download Instagram videos on your PC or iPhone. It eliminates the need for software installation, saving you time and device storage. Most importantly, it is free to use.
If this is your preferred choice, using SaveIG will meet your needs effectively. SaveIG downloads Instagram videos in the highest available quality by default. Therefore, you can easily save IG videos in HD, FHD, or even 4K resolution, as long as the video quality is available.
In addition to Instagram videos, it also supports other types of content, covering photos, reels, stories, and IGTV.
Notes: SaveIG is not without its shortcomings. Its free service comes at the expense of user experience, as the website is filled with ads. In fact, you may even need to manually close pop-up ads in order to proceed with video downloads. If you find this aspect bothersome, you can consider using the alternative methods introduced below.
To download an Instagram video in HD via SaveIG:
Step 1. Copy the URL of the Instagram video.
Step 2. Visit SaveIG, paste the URL, and then click Download.
Step 3. Close the popup and click Download Video.
Step 4. Close the prompt and then video download will start immediately.

Download Instagram Videos in HD Smoothly
Tool: PasteDownload Online Video Downloader
Applies to: PC
If you want to save Instagram videos in HD online but don't want to be bothered with ads or popups, using PasteDownload may suit you better. It is also an online video downloader that enables you to download HD Instagram videos without any software. Most importantly, it provides a smooth process for HD Instagram video download. It won't bother you with popups or redirections.
Moreover, it supports multiple sites, including Instagram, Vimeo, Dailymotion, Facebook, Pinterest, and more. If you need to download videos from the internet often, PasteDownload is a good choice.
To download Instagram videos in HD:
Step 1. Copy the video link from the Instagram app or website.
Step 2. Go to PasteDownload, paste the link into the URL field, and then wait for the website to load the video automatically.
Step 3. Click Download, right-click the video, and choose Save video as.
Step 4. Choose the storage path and click Save to start downloading the Instagram video to your device.

Download IG Video in HD or Higher
Tool: SurFast Video Downloader
Applies to: PC and Mac
Indeed, using a desktop HD Instagram video downloader may not be as convenient as using an online service. However, an Instagram video downloader HD app like SurFast Video Downloader is the optimal choice if you seek a safe, stable, and fast video downloader for HD video downloads.
Moreover, SurFast Video Downloader offers advanced features such as bulk downloading, customizable video quality, and support for over 1000+ sites. Whether you desire to download Instagram videos in HD or higher quality like 4K (if available), this app will effortlessly fulfill your needs.
In conclusion, if you intend to download videos from any website, utilizing this video downloader for PC and Mac will prove to be highly beneficial.
To download an Instagram video in HD:
Step 1. Paste the Instagram video link to SurFast Video Downloader and then click Confirm.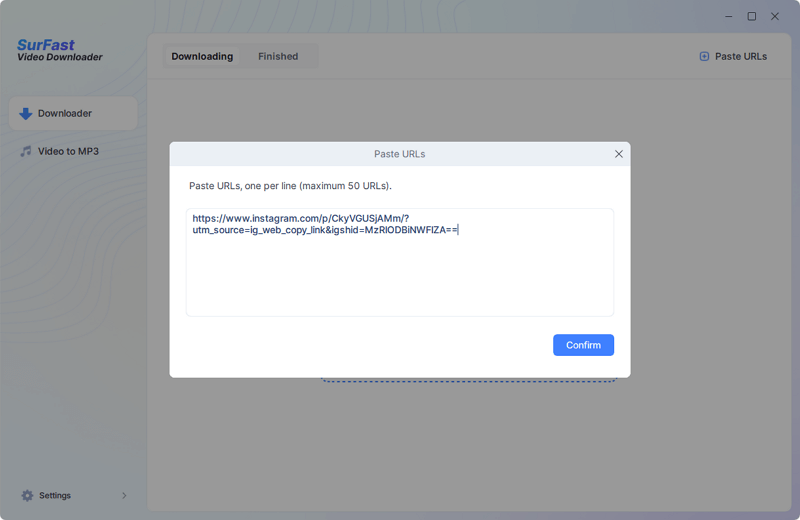 Step 2. Select 720p, namely HD, as the output option, and then click Download.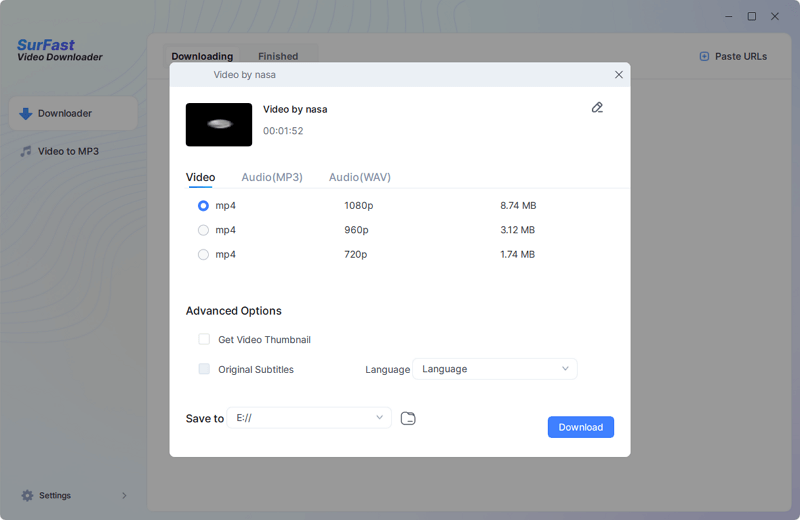 Step 3. Wait for the Instagram video download process to finish.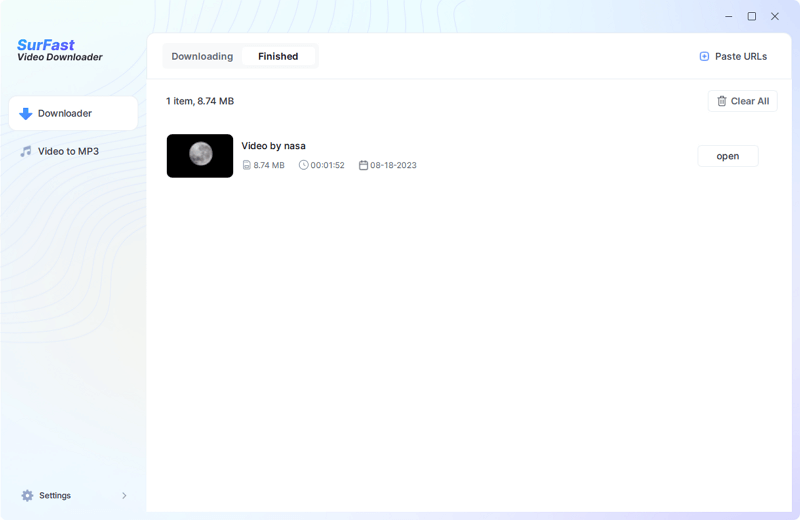 More Instagram Video Download Tips
When you save videos from Instagram to your phone or computer, you may also want to know:
How to perform an Instagram story download?
You can download Instagram story download using online services like SnapInsta, SaveIG, SaveInsta, and more:
Copy the story video link.
Paste the link to the online Instagram story downloader and click Download.
After the website parses the link, click the Download Video button to save the Story video to your device.
How to achieve Instagram Reels download?
When it comes to Instagram Reels download, you can use online services, browser extensions, and desktop or mobile apps to get it done. Here I'd like to show you how to download Instagram reels with the online Instagram reel downloader – PasteDownload.
Copy the reel video link.
Visit PasteDownload.com and paste the URL.
Click Download, right-click the video, and then choose Save video as.
How to download Instagram videos to MP4?
Downloading an Instagram video to MP4 is easy with any Instagram video downloader since it will save the video as MP4 by default. Here are the tools you can try:
SurFast Video Downloader
SnapInsta
SSSInstagram
SaveInsta
Wrapping Up
To sum up, most Instagram video downloaders will save the video in the highest quality by default, making it easy to download Instagram videos in HD or higher.
Other than online services and desktop apps, you can also download videos from Instagram using browser extensions and mobile apps, such as Video Downloader Plus for Chrome and Video Downloader for Instagram app for Android. If you are interested in such tools, you can give it a try.